Spannende cliffhangers en comics gaan, net als politici en leugens of pindakaas en smakelijk, hand in hand. Het hoort bij de seriële vertelvorm die ervoor moet zorgen dat we iedere maand een nieuwe aflevering kopen. Sommige cliffhangers zijn ware kunststukjes.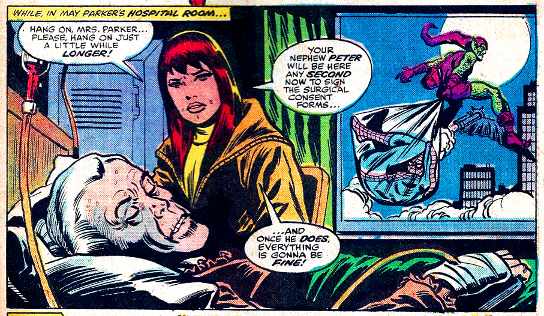 Dit stripplaatje sluit Amazing Spider-Man #178 (coverdatum maart 1978) af. Ik vind het een prachtige cliffhanger, want alles is netjes in één frame verpakt. Terwijl Tante May hoognodig geopereerd moet worden, de arme schat heeft in korte tijd twee hartaanvallen gehad, wacht het operatieteam op toestemming van een familielid. Dat is natuurlijk haar neefje Peter Parker, maar zoals je door het raam kunt zien, heeft die op dit moment heel andere dingen aan z'n hoofd. Op weg naar het ziekenhuis werd hij onderschept door the Green Goblin.
Dit keer zit overigens niet Norman Osborn achter het masker van de Goblin, want die is dood. (Tenminste, toen nog wel.) Het is ook niet Harry Osborn, zoals Peter vermoedt, maar Bart Hamilton, de psychiater die de opdracht heeft Harry te genezen van zijn criminele gekte. Je zou kunnen zeggen dat Hamilton er nogal onorthodoxe methoden op na houdt om zijn patiënt te genezen, maar in werkelijkheid denkt Hamilton een betere criminele superschurk te zijn dan Harry of Norman Osborn. Een psychiater die ze zelf niet helemaal geestelijk op een rijtje heeft, wie had dat kunnen denken?
Hoe dan ook, in een stripplaatje is duidelijk hoeveel het leven van een superheld soms op een aflevering uit een soap lijkt. Met dank aan schrijver Len Wein, tekenaar Ross Andru en inktwerk van Jim Mooney.