X-Men-verhalen die meer dan dertig jaar oud zijn, zijn ook nu nog heel goed te lezen dankzij het puike schrijfwerk van Chris Claremont en het vakwerk van Paul Smith.
Om het jaar eens lekker te beginnen besloot ik begin januari Vandal Com-X te bezoeken. Een paar jaar geleden sloot de winkel in op de Rozengracht in Amsterdam en tegenwoordig kun je geregeld het afhaalpunt bezoeken om je strips op te halen. Het afhaalpunt zit op een industrieterrein bij het IJ in de buurt. Ik trof een goedgemutste Otwin aan die vanaf hier de bestellingen van de striplezers verpakt om te verzenden.
Ik was wederom op zoek naar Essential-bundels van Marvel Team-Up, maar ik ging met een stapeltje andere comics naar huis.
In een bak met aanbiedingen trof ik X-Men: From the Ashes aan. Een bundeling verhalen uit 1983 geschreven door Chris Claremont en grotendeels getekend door Paul Smith. Verhalen uit de bloeiperiode van de X-Men, die dus toch alweer meer dan dertig jaar oud zijn. Deze bundel werd overigens in 1990 gepubliceerd en voor zover ik dat heb kunnen nagaan, is hij niet meer zo heel makkelijk te krijgen. Een mooie aanwinst voor mijn collectie dus, ook al ken ik de verhalen al van de Nederlandse uitgaven van Juniorpress indertijd.
In de bundel lopen een paar prominente verhaallijnen, zoals de introductie van Madelyne Pryor. Een pilote die verdomd veel op Jean Grey lijkt. Scott Summers valt als een blok voor haar, maar vraagt zich ondertussen af of Pryor niet de reïncarnatie is van Grey die enkele jaren eerder overleed in the Dark Phoenix saga. Al snel lijkt het erop dat Phoenix trouwens terug is om de aarde te vernietigen, maar of dat ook werkelijk het geval is? Ondertussen staat Wolverine op het punt om te trouwen met zijn geliefde Mariko, maar dat loopt alles behalve rooskleurig.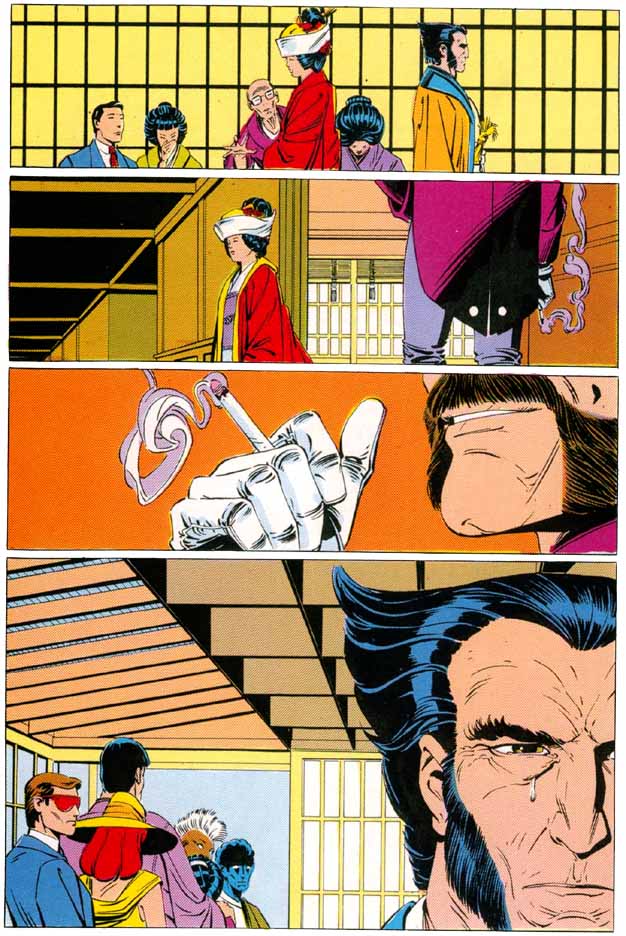 Rogue, tot dan toe een kwaadaardige mutant die hoorde tot de Brotherhood of Evil Mutants, klopt bij Charles Xavier aan voor hulp: ooit nam ze de krachten over van Carol Danvers, maar ook haar persoonlijkheid en ze dreigt daardoor langzaamaan gek te worden. Wie ook behoorlijk aan het veranderen is, is Storm. Ze voelt zich steeds minder verbonden met de aarde en de natuur. Dat heeft niet alleen zijn weerslag op haar krachten, maar ook op haar karakter. Ze wordt steeds koel bloediger en haar karakter krijgt een scherp randje. Dat zien we uiteindelijk terug in de visuele metamorfose die ze ondergaat.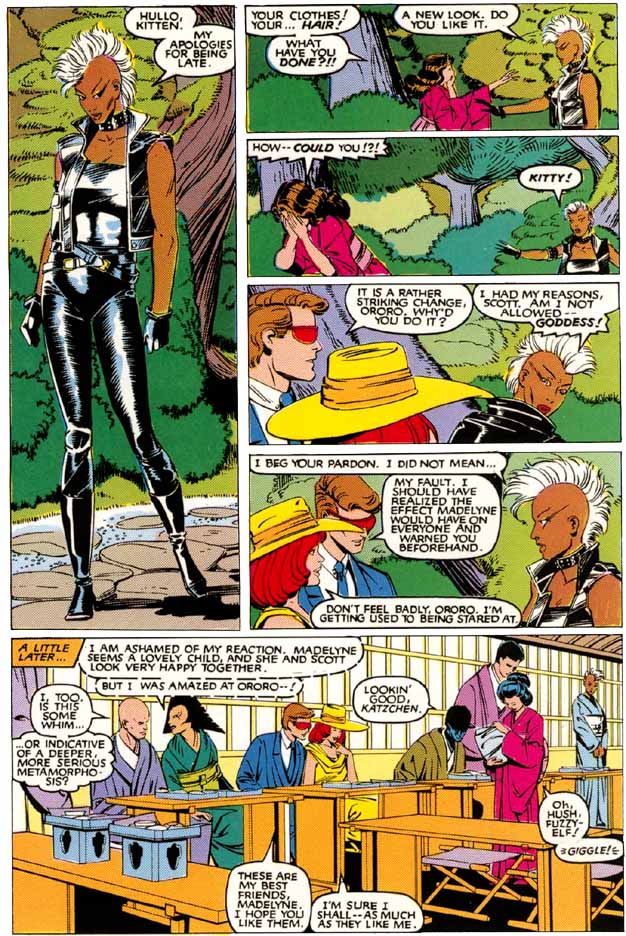 Over het puike schrijfwerk van Claremont heb ik de loftrompet wel eerder gestoken en Paul Smih (1953) kwam al eens ter sprake toen ik het over Iron Man had. Toch wil ik je wat meer van zijn werk laten zien, want hij wordt nog steeds door veel fans als een van de betere X-Men tekenaar gezien. Wie From the Ashes leest, ziet meteen waarom. Smith heeft de menselijke anatomie goed in de vingers en laat de personages overtuigend acteren. Maar wat ook opvalt zijn z'n inventieve pagina-indelingen en vakmanschap wat de visualisatie van het verhaal betreft. Kijk maar eens naar deze effectieve pagina waarin Storm Callisto, de leider van de Morlocks, een doodsteek geeft: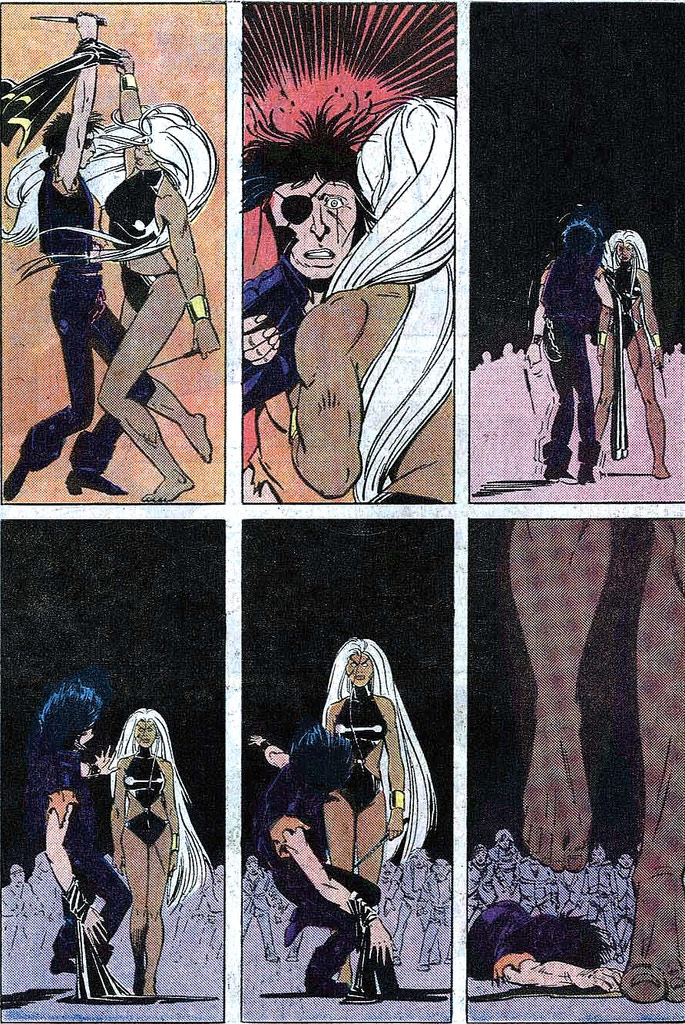 Dat Smith zich laat inspireren door het medium film is duidelijk te zien. Niet alleen door de onderste strook waarin Storm zelfverzekerd naar 'de camera' loopt. Ze loopt hier letterlijk over Callisto heen. Door het kikkerperspectief komt ze extra imposant over. De hele scène is op een dramatische wijze gevisualiseerd, ieder plaatje is een belangrijk onderdeel van het geheel. Een belangrijk moment in de ontwikkeling van Storm, en een onomkeerbaar moment dat toont hoe radicaal haar karakter aan het veranderen is.
Ook in bovenstaande pagina uit X-Men #173-174 dat zich in Japan afspeelt en waar Wolverine het opneemt tegen de Japanse mafia en The Silver Samurai, zien we invloeden van de wide-screen Japanse martial arts cinema terug. Overigens moet ik daarbij wel vermelden dat Frank Miller indertijd hetzelfde deed in de miniserie over Wolverine in Japan. Dus misschien heeft Smith het van hem afgekeken.
De bundel begint al meteen goed, met deze splash page waarin Kitty Pryde duidelijk laat merken dat ze het niet eens is met Xaviers beslissing haar bij de New Mutants in te delen: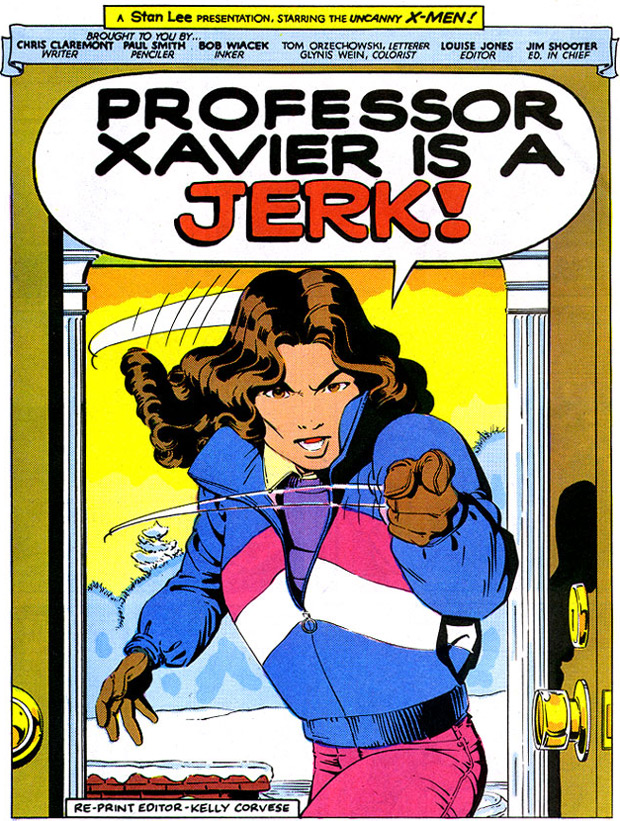 Ik ben altijd een groot fan geweest van Kitty Pryde: de superslimme tiener die kan faseren en die een draakje genaamd Lockheed heeft als huisdier. Toen ik als tiener deze verhalen in Nederlandse vertaling las, zag ik in Kitty het ideale vriendinnetje. In de vertaling van bovenstaande tekst was trouwens 'Kitty vecht terug'. Die titel dekt de lading van dit verhaal prima, maar ik moet Ger Apeldoorn toch eens vragen waarom hij daarvoor heeft gekozen, want 'Professor Xavier is een eikel/lul' zou toch dichter bij het origineel zitten.


De cover van From the Ashes bevat Uncanny X-Men #168-176. werd in december 1989 getekend door Arthur Adams. De illustratie geeft de belangrijkste personages uit deze bundel weer: De X-Men, Phoenix en de Morlocks. De grote schurk die achter de schermen de gebeurtenissen manipuleert, is niet afgebeeld. Wie dat is, zeg ik nu natuurlijk niet. Ook al zijn deze verhalen uit 1983 en er van spoilers alleen maar sprake kan zijn als je deze strips voor het eerst gaat lezen. Dat kan namelijk nog steeds, want ze zijn in andere herdrukken ook nog steeds beschikbaar zoals de Essential-serie. En anders kun je ze zeker online nog vinden als torrent.