Spider-Man: Into the Spider-Verse is een zeer vermakelijke animatiefilm van de makers van The Lego Movie, Phil Lord en Christopher Miller, waarin de origin story van Miles Morales centraal staat.
Miles Morales, de Afro-Amerikaanse tiener die net als Peter Parker ook gebeten is door een radioactieve spin, heeft de hoofdrol in deze animatiefilm, maar de makers trommelen meerdere versies op van Spider-Man uit parallelle universa. Ook de recent bedachte Spider-Gwen speelt een rol en zelfs Spider-Ham, het varken met spinnenkrachten. Dat is op zich een slimme zet: als uit de reacties op de film blijkt dat Spider-Gwen het goed doet bij het algemene bioscooppubliek kan Sony de volgende animatiefilm rondom haar personage maken. Of met een van de andere Spider-People die in deze film worden geïntroduceerd. Of zelfs gewoon eentje met Morales. Ze kunnen dus alle kanten op na deze flick.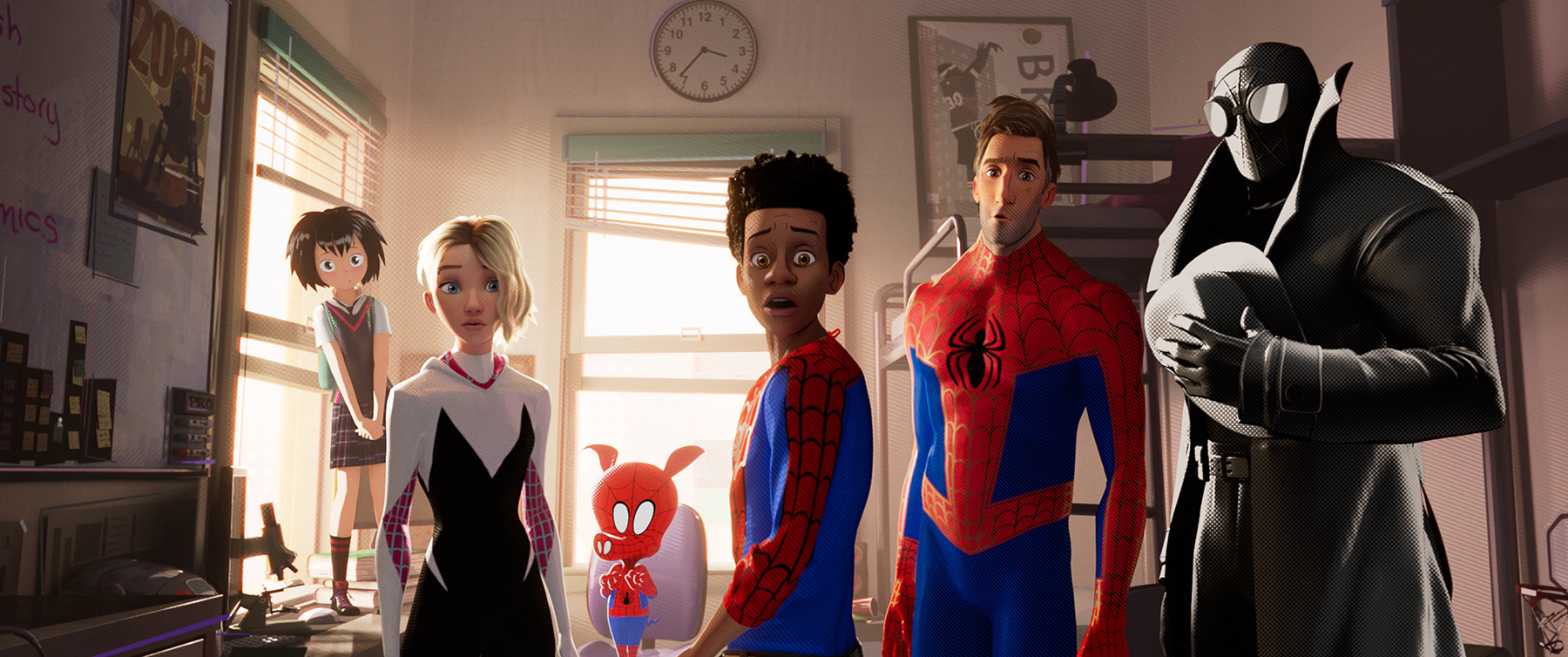 Het verhaal in het kort: Miles Morales, een zwarte tiener uit Brooklyn van Latijns-Amerikaanse afkomst, die zich moet bewijzen op een eliteschool, krijgt zijn spinnenkrachten vlak voordat Spider-Man overlijdt. Het is nu aan Miles om te voorkomen dat Kingpin een machine aanzet die toegang geeft tot parallelle universa. Een nadeel van de machine is namelijk dat de verschillende dimensies vernietigd worden. Miles krijgt hulp van verschillende Spider-Men en Spider-Gwen uit deze andere dimensies. Met de hulp van een wat oudere, en beetje sukkelige en depressieve Peter Parker uit een andere wereld leert Miles langzaamaan hoe hij Spider-Man moet zijn.
Heel veel Spider-People
Als verstokt Spider-Man-fan – ik schreef een boek over mijn liefde voor Spider-Man en fancultuur – vind ik dat er in de comics van Marvel te veel Spider-Mensen rondlopen de laatste tijd. Het merk Spider-Man is aardig verdund, wat Peter Parker een stuk minder speciaal maakt. Dat komt deels omdat de vraag naar meer representatie vaak wordt beantwoord met de creatie van superhelden met bijvoorbeeld een andere etnische achtergrond dan het blanke ras. Vaak zijn die eigenlijk niet meer dan een kopie van bestaande superhelden maar dan met een ander kleurtje of sekse.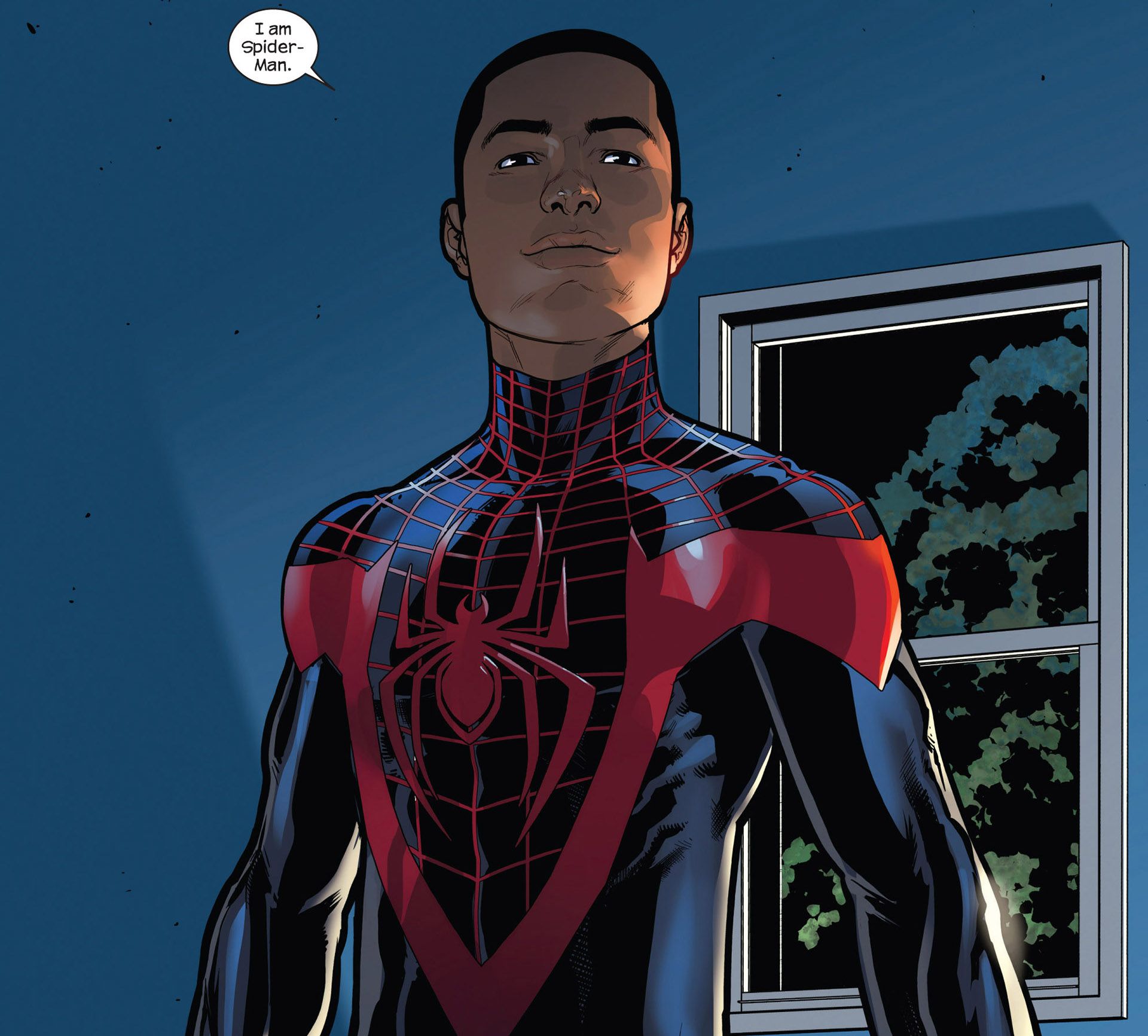 Miles Morales is uit die behoefte geboren. Hij werd geïntroduceerd in de serie Ultimate Spider-Man, en is een creatie van Brian Michael Bendis en Sara Pichelli.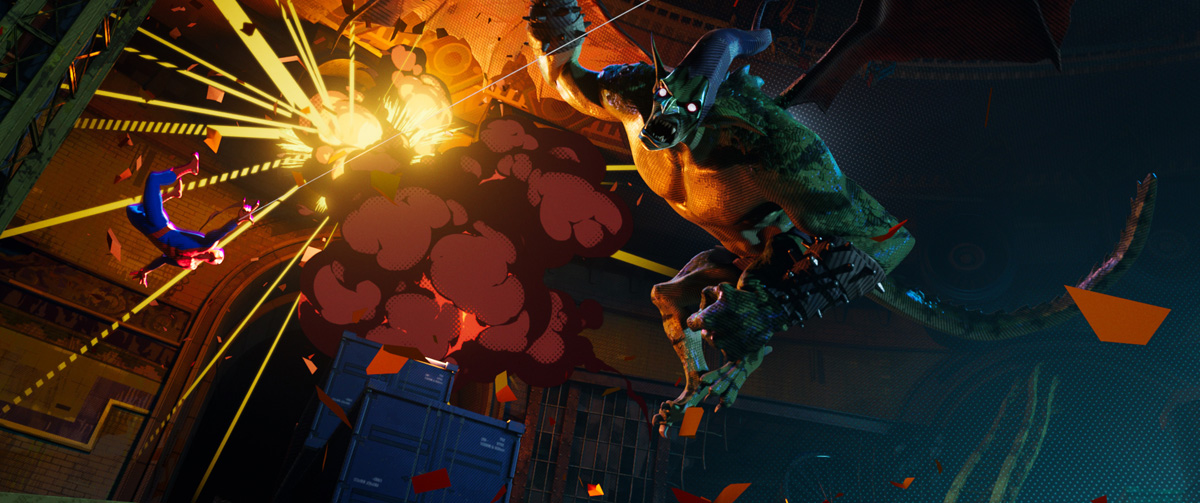 Nu moet ik zeggen dat het strippersonage Morales een geheel eigen identiteit heeft die verschilt van Peter Parker en deze jonge, zwarte Spider-Man heeft dan ook een aardige schare fans opgebouwd in de afgelopen jaren. Van alle nieuwe representatiehelden is hij het geslaagdst, samen met Ms. Marvel. Hoewel ik niet zoveel heb met de Miles uit de comics, vond ik de geanimeerde versie erg goed gedaan en sympathiek. Je leeft echt met deze jonge tiener mee.
Spider-Gwen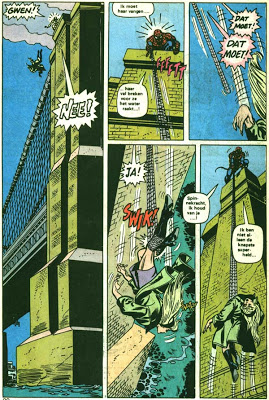 Minder gelukkig ben ik met een creatie als Spider-Gwen: in een parallel universum wordt Gwen gebeten door de radioactieve of genetisch gemanipuleerde spin, en sterft Peter Parker. In de oorspronkelijke comics was dat andersom. Gwen was Peters eerste grote liefde en ze stierf doordat de Green Goblin haar van de Brooklyn Bridge gooide. Het lukte Spider-Man niet zijn geliefde te redden. Aangezien Gwens dood een enorme mijlpaal was in de Spider-Man-verhalen en Peter voor het leven tekende, stoort het mij dat er nu een nieuwe versie van haar rondslingert in het Marvel Universum. Dit maakt Gwens dood minder impactvol. Bovendien is Spider-Gwen overbodig, want er zijn al meerdere Spider-Women en -Girls geweest en die voldeden prima aan de wens voor meer vrouwelijke actiehelden. (Al moet daarbij wel gezegd worden dat Marvel nooit een tekort aan stoere, vrouwelijke helden heeft gehad.)
Dat neemt niet weg dat Spider-Gwen, die zich in Into the Spider-Verse gewoon Spider-Woman noemt, goed uit de verf komt en ook een sympathiek personage is. En daarbij komt nog dat bovengenoemde bezwaren de gemiddelde bioscoopbezoeker een worst zal zijn. Die maakt voor het eerst kennis met Morales en Spider-Gwen en weet niet hoe het allemaal op papier in elkaar zit. Wat dat betreft zullen die-hard geeks als ik het altijd afleggen tegen de massa kijkers die Hollywood het liefste bedient. Dankzij Spider-Man: Homecoming denkt iedereen nu immers ook dat Tony Stark Peter Parker heeft opgeleid terwijl dat in de jonge jaren van de Spidey uit de comics allerminst het geval was.
Stripelementen
Er valt veel te genieten in Spider-Man: Into the Spider-Verse: de animatie is knap gedaan: de actiescènes goed uitgevoerd en verschillende tekenstijlen worden speels door elkaar gemixt. Soms bevat een scène captions en gedachteballons zoals in de comics. Er zit veel geslaagde humor in de film.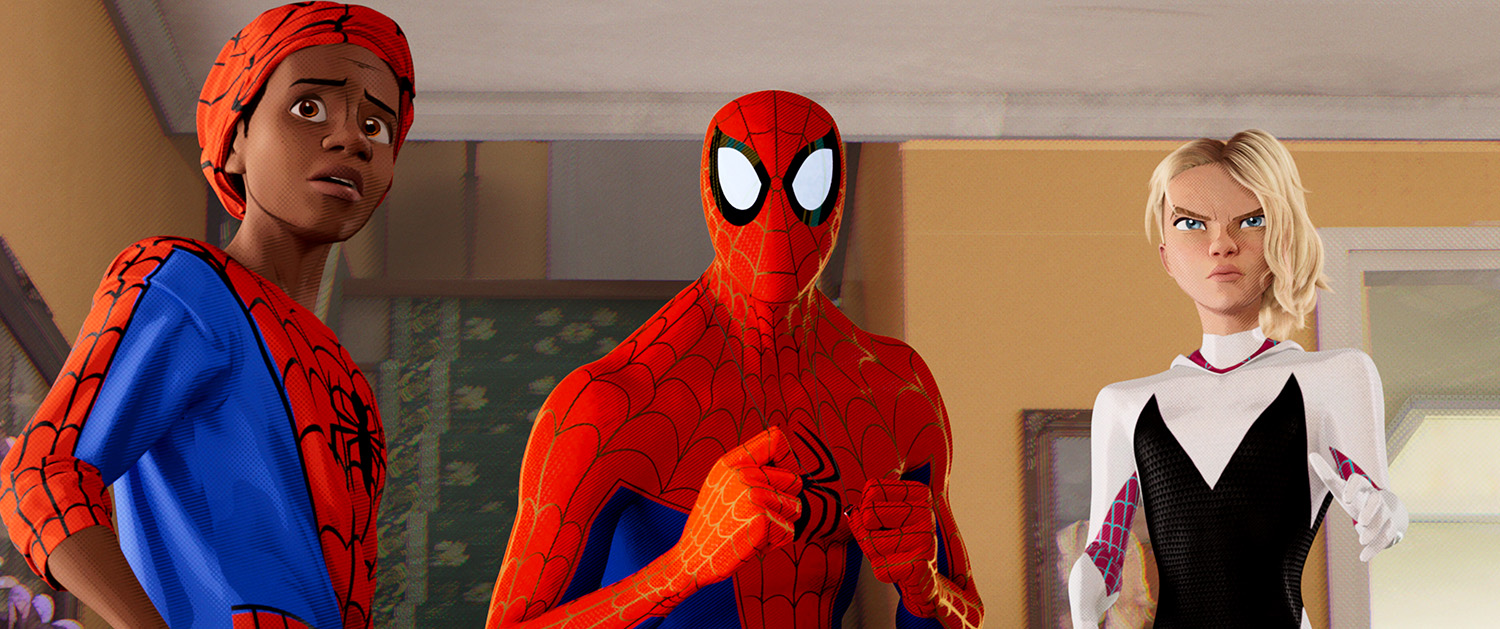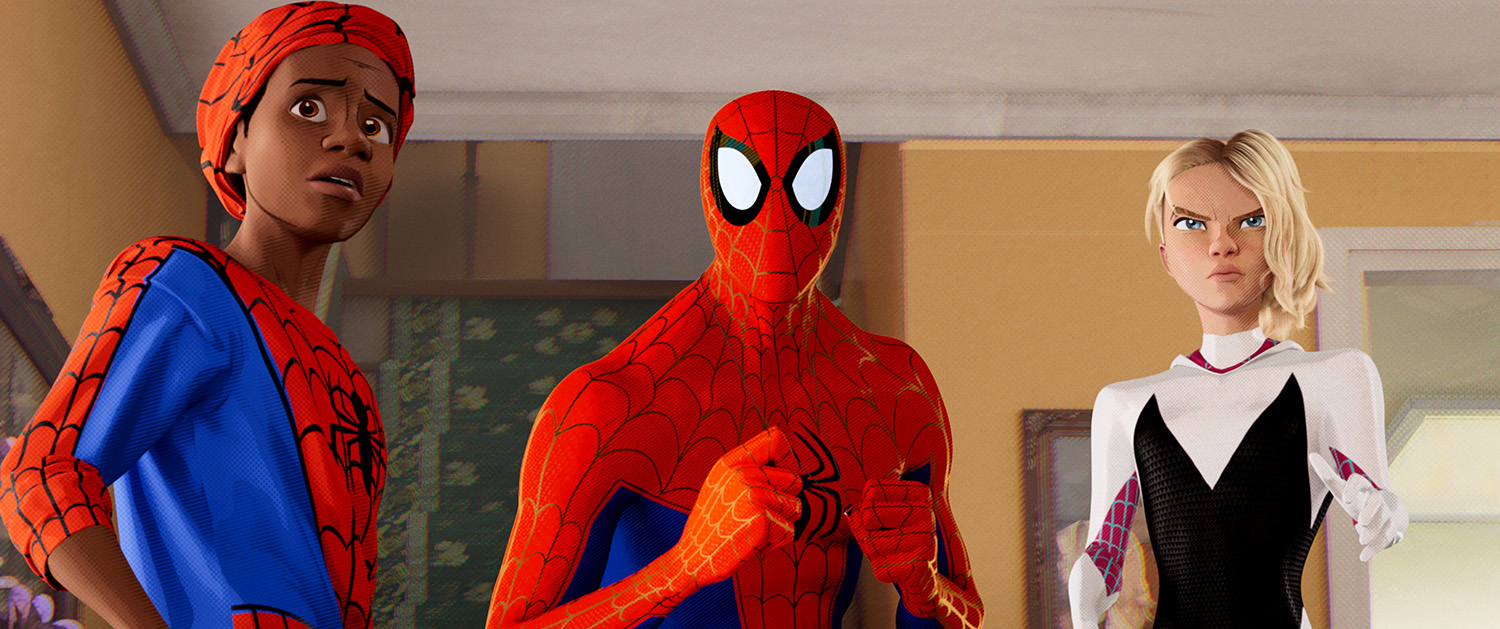 Hier en daar is er ruimte voor een emotionele noot. De scène waarin Tante May oog in oog staat met de Peter Parker van een parallel universum terwijl haar Peter net is overleden, is net zo ontroerend als de strips waar deze scène uit is geleend. Het tempo van de film is echter hoog, waardoor dit moment weer voorbij is voordat je traan goed en wel uit je ogen is gerold.
Er zitten veel knipoogjes naar de eerdere Spider-Man-films van Sam Raimi en sommige scènes zijn letterlijke citaten. Tot slot is de stemmencast spot on.
Kortom, deze Spider-Man-film heeft een geheel eigen karakter, is erg vermakelijk en smaakt naar meer.
Spider-Man: Into the Spider-Verse draait vanaf 20 december 2018 in de bioscoop in de originele en Nederlandse versie.