Howard the Duck staat op Netflix, dus waagde ik de gok om deze stripadaptatie uit 1986 nog eens te gaan kijken.
Howard the Duck van regisseur Willard Huyck en producent George Lucas is een live-action adaptatie van de Marvel Comics omtrent een pratende eend. Howard the Duck is een creatie van Steven Gerber en Val Mayerik en een redelijk subversief en absurd personage. Zelf haak ik snel af bij pratende Disney-achtige dieren in een semi-realistische omgeving als het Marvel Universum. Ik heb daarom nog nooit echt een Howard the Duck-comic gelezen. Al kwam ik hem wel eens tegen in een team-up met Spider-Man.
De film uit 1986 was officieel de eerste Marvel-verfilming voor een bioscooppubliek. Howard the Duck was een flop. Wie hem nu kijkt, snapt meteen waarom. Het verhaal is gewoon niet zo goed.
Howard woont op een eendenplaneet: alles is eigenlijk net zoals bij ons, maar dan bevolkt door eenden in plaats van mensen. Howard wordt door een experiment op aarde per ongeluk naar onze planeet over gestraald. Hier is hij letterlijk de vreemde eend in de bijt. Een pratende eend met een dikke sigaar in zijn bek zien we namelijk niet iedere dag.
Kinderachtig
Dit uitgangspunt zou een mooi en satirisch verhaal kunnen opleveren over immigratie en integratie, maar de film verzandt al snel in enorme, vreemde kolder waarin het einde der tijden dreigt als door hetzelfde experiment ook een duistere opperheer op aarde komt die de rest van zijn collega's wil laten overkomen. Beetje kinderachtige kolder dus allemaal.
Oorspronkelijk wilde George Lucas hier ook een animatiefilm van maken, maar vanwege contractuele verplichtingen moest het per se een live-action film worden. Howard wordt gestalte gegeven door kleine acteurs in een pak en ziet er daardoor niet zo heel overtuigend uit. Van Gerbers satire is bijna niets overgebleven.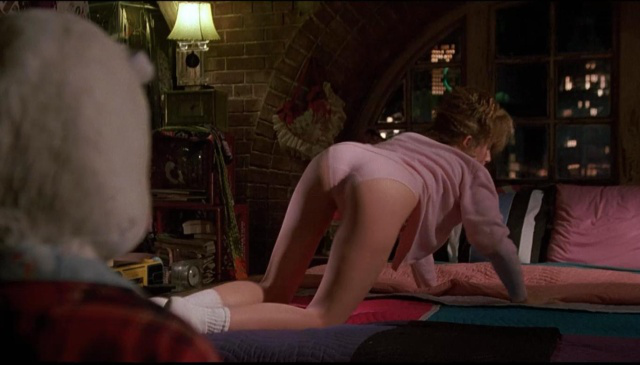 Fuck a duck
Het grappigste en vreemdste moment is de scène waarin zangeres Beverly Switzler (Lea Thompson) met Howard in bed duikt en het er even op lijkt alsof ze zullen gaan neuken. Sinds een markante scène in Clerks II, waarin een ezel in een fastfood restaurant van achteren wordt genomen, weet ik wat interspecies erotica is, maar zover komt het in Howard the Duck niet. Gelukkig maar wellicht.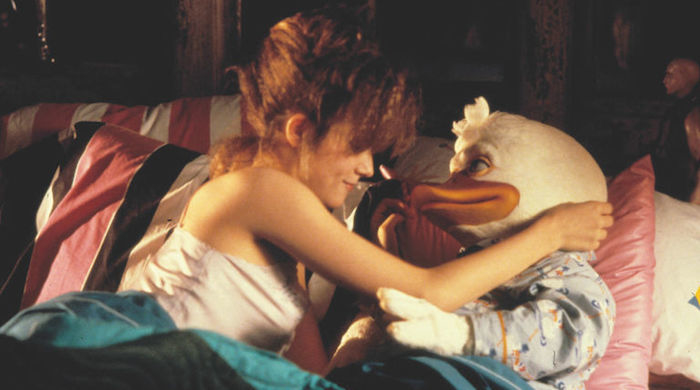 Aan de andere kant: als ze dit idee hadden doorgevoerd, had Howard the Duck het niveau van beroerde kinderfilm overstegen, en misschien de moeite van het uitzitten waard geweest. Al was het dan wel een heel ander soort film geworden.
https://www.youtube.com/watch?v=SzI-ZbcK_sw