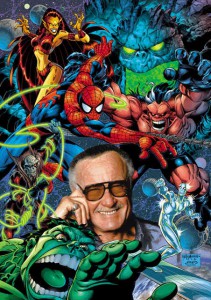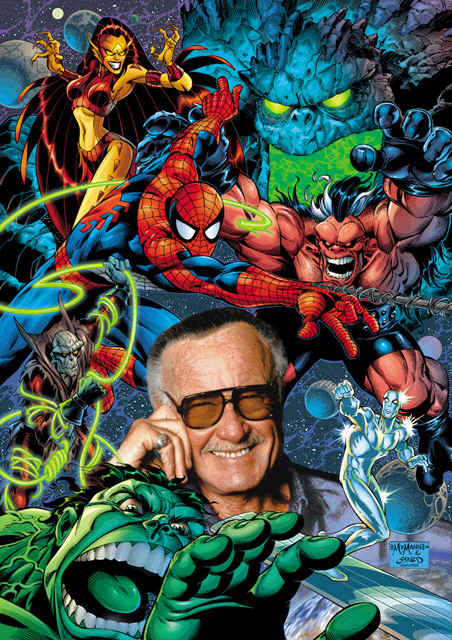 Stan – the man – Lee, bedenker en cocreator van een ontelbare hoeveelheid  Marvel-helden als Spiderman, The Fantastic Four en de Hulk, voert een pleidooi voor een nieuwe categorie bij de Oscars, namelijk voor de cameorol.
Cameo-acteurs zijn meestal maar kort in beeld, maar vaak toch herkenbaar omdat het bekende koppen zijn.  Alfred Hitchcock zorgde ervoor dat hij altijd even in beeld was in zijn films. Het was zijn handelsmerk. In zijn latere films kwam Hitcock meestal in de eerste minuten al op omdat mensen het van hem verwachtten en het zoeken naar Hitchcocks bekende profiel anders te veel af zou leiden van het verhaal.
Wegwijzer voor ruimtewezens
Lee is zelf een van de ongekroonde koningen van de cameorollen. In bijna alle verfilmingen van Marvel-strips komt hij wel even langs, als een Hitchcock van de superheldenfilms.Lee speelde in de film Mallrats (Kevin Smith) zichzelf en deed dat overigens heel verdienstelijk.
In zijn nieuwe creatie, Super Seven, heeft Lee voor zichzelf een hoofdrol gereserveerd. Maar het gaat dan ook om een optreden als stripfiguur. In de strip en animatieserie gaat Lee zeven buitenaardse wezens die op aarde zijn gecrasht, wegwijs maken.
Maar deze week, met de aankomende Oscars in het vooruitzicht, breekt de schijnbaar onvermoeibare Lee een lans voor de cameospeler: 'You can take the actors out of a movie and it still works. You can't cut the cameo without killing the flick!' Nuff Said!