Maandag 29 april 2019
Dit weekend ben ik verder gaan lezen in Slayers & Vampires: The Complete Uncensored, Unauthorized, Oral History of Buffy the Vampire Slayer & Angel. Auteurs Edwar Gross en Mark A. Altman hebben de acteurs en mensen achter de schermen van deze televisieserie gesproken en hun citaten neergezet zodat het een lopend verhaal is geworden.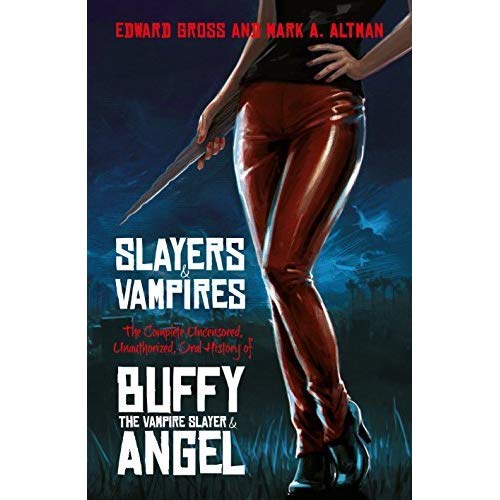 Jammer vond ik wel dat juist de acteurs die je het graagst hoort praten over de serie het minste aan het woord komen. Weinig Sarah Michelle Gellar, Anthony Stewart Head en Alyson Hannigan. Wel komt James Marsters veel aan het woord, maar je wilt natuurlijk juist van Sarah Michelle allerlei leuke anekdotes horen. Hoe vond zij het om te moeten zingen in de musicalaflevering? Ik weet dat ze niet van zingen houdt, maar niet dankzij dit boek.
Ben nu bij het gedeelte over de Angel tv-serie. Daarin komen de belangrijke acteurs wel vaker aan het woord. Dat stuk vind ik dus eigenlijk leuker om te lezen. En ik heb meteen zin om de serie weer te kijken. Angel heb ik niet op dvd, dus dat opnieuw kijken zal even moeten wachten.
De HD-versie van Buffy schijnt een regelrechte ramp te zijn. De beelden zijn vaak zonder de bijbehorende filters in HD overgezet, waardoor nachtscènes opeens dagscènes zijn geworden. Ook zijn ze heel slordig omgegaan met het beeldratio. Bij het omzetten van 4:3 naar 16:9 hebben ze soms een uitsnede van het beeld gemaakt en soms zie je juist de crew in beeld. Ongelooflijk. Ik ben heel blij dat ik de oorspronkelijke dvd's nog in huis heb.