In de jaren tachtig werd Dick Grayson Nightwing en kreeg Batman een nieuwe Robin in de vorm van Jason Todd. Omdat de stripmakers bij DC Comics graag verhalen herschrijven, kreeg Todd uiteindelijk twee origin stories. In 1988 werd besloten dat hij dood moest.
Tenminste, de redacteuren van DC Comics lieten die beslissing aan de lezers over. Zij pasten opeens het karakter van Todd aan en maakten hem gewelddadiger en opstandiger.
In het verhaal A Death in the Family reist Jason Todd af naar het Midden Oosten om zijn biologische moeder te vinden. De Joker is daar ook en wil een atoombom verkopen aan terroristen. Jason vindt zijn moeder maar zij wordt gechanteerd door de Joker en levert haar zoon aan de psychopaat uit.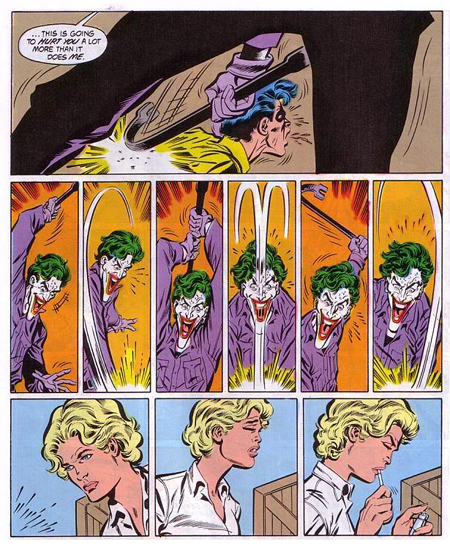 Aan het einde van deel twee van het verhaal A Death in the Family, is Jason in elkaar geslagen door de Joker met een breekijzer. Jason zit samen met zijn moeder opgesloten in een magazijn. Ze kunnen niet ontsnappen voordat er een bom ontploft.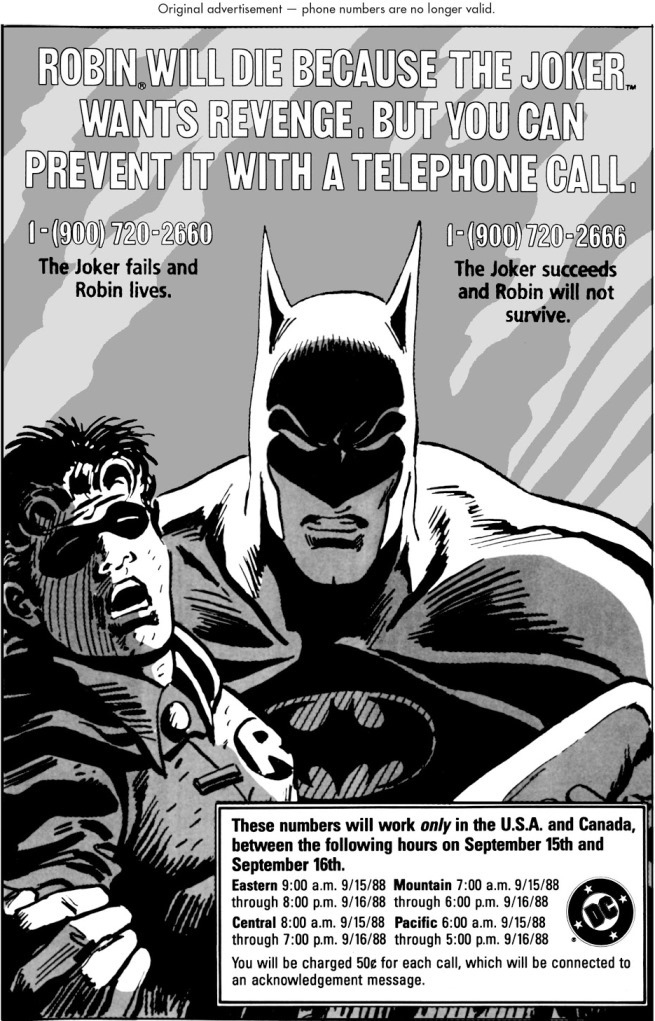 De lezers konden in een korte periode twee telefoonnummers bellen: een telefoontje aan het ene nummer was een stem om Jason te laten sterven. Een telefoontje naar het andere nummer hield de jonge Bat-spruit in leven. Uiteindelijk stemden 5.343 mensen voor Jasons dood, en 5.271 tegen. In totaal stemden 10.614 lezers.
Batman vindt in het derde deel dus het dode lichaam van zijn Robin. Dankzij de lezertjes die met een kleine meerderheid de jongen dood wensten.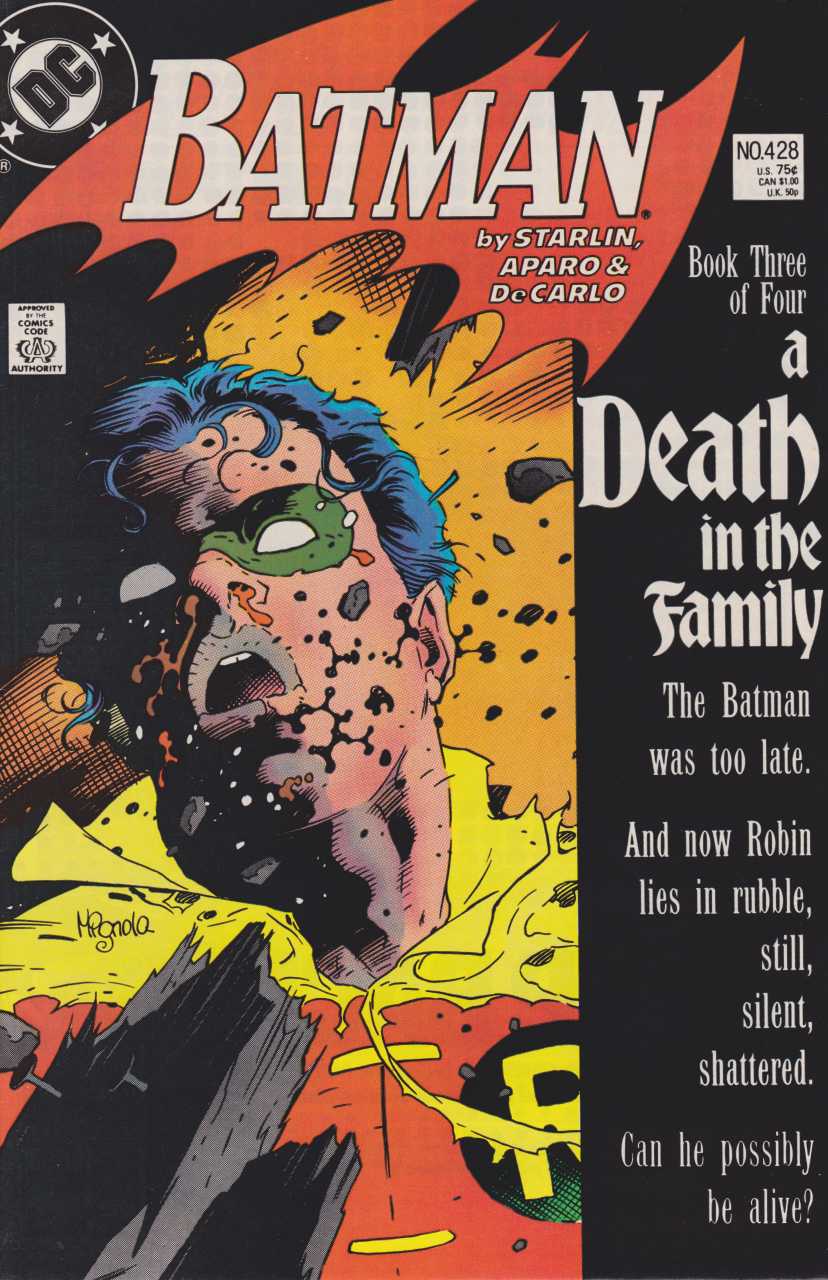 Frank Miller noemde dit ooit een heel cynische actie van DC Comics en daar moet je hem gelijk in geven. Stemmen of een personage moet blijven leven of sterven is een heel cynische vorm van marketing.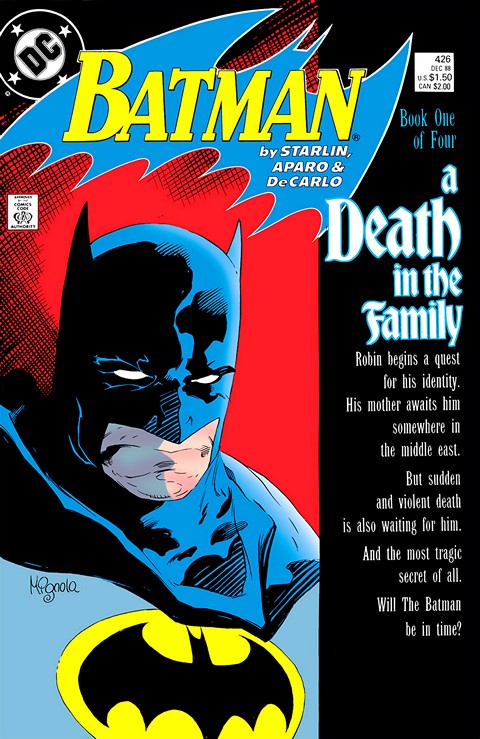 Stel je voor als ze dit geintje hadden uitgehaald met Gwen Stacy in 1973… Wat was dan de uitslag geweest?
Het verhaal A Death in the Family werd geschreven door Jim Starlin en getekend door Jim Aparo, geinkt door Mike DeCarlo. De covers waren echter gemaakt door Mike Mignola. Volgens mij was dit de eerste keer dat ik kennismaakte met zijn tekenstijl. Het zijn mooie, ingetogen en ietwat sombere portretten. En de cover van de dode Robin hakt er goed in.
A Death in the Family is ook in het Nederlands uitgegeven door Juniorpress/ Baldakijn als Batman Special #1-3. Daarin is ook de prelude opgenomen waarin Robins nieuwe karakter duidelijk naar voren komt. Oorspronkelijke uitgaven: Batman #426-429.