Soms kom je echte pareltjes op tumblr tegen. Zoals deze foto's van Chip Kidd van superheldenkostuums van Batman, Batgirl, Robin, Wonder Woman, Catwoman en Superman.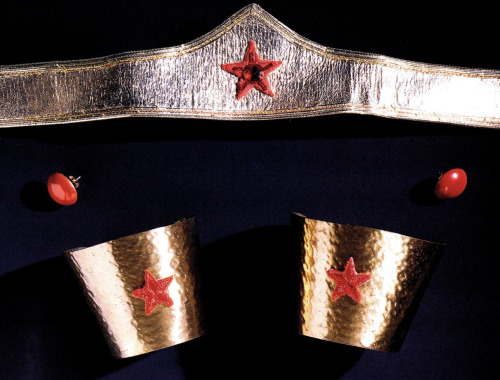 Chip kidd is een populaire en geliefde boekslagomwerper, graphic designer en schrijver. Hij heeft ook wat boeken ontworpen die over strips gaan, waaronder over Batman the Animated Series  en Batman Collected.
Ik weet niet of deze foto's uit een boek komen of dat hij ze voor zijn privécollectie heeft gemaakt. Maakt verder ook niet uit. Het blijft fascinerend om filmkostuums in het 'echt' te kunnen zien. Ze krijgen daardoor vaak toch een handmade quality, vind ik. Ook is het tof om de slijtage op de outfits te zien.
Aan de ene kant maken die kostuums de fictie echter en concreter. Aan de andere kant zie je er juist ook de grenzen van de fictie aan af. Een mooie paradox.
Sowieso zie je in de foto een duidelijke visie van de fotograaf terugkomen: hij gebruikt telkens hetzelfde basisconcept om de kostuums mee in beeld te brengen en dat werkt in zo'n serie heel sterk.
Nog even over Kidd en boekomslagen: in 2012 gaf hij deze lezing op TED. De moeite van het kijken waard. Hij is een rasverteller en heeft veel zinnigs te zeggen over het ontwerpen van boekomslagen: