Met alle berichten die iets aankondigen die ik de laatste tijd heb gepubliceerd, lijkt mijn blog een veredeld mededelingenbord.
Nu vind ik het erg leuk dat ik dit jaar weer heb kunnen meewerken aan de HAFF bijlage van de VPRO Gids, dus die stukken plaats ik graag door op mijn blog. Persberichten en aankondigingen van beurzen doe ik vooral als de beurs mij aan staat, of als ik er expliciet voor gevraagd wordt en ik vind dat de doelgroep hiervan op de hoogte gesteld moet worden. Maar originele blogposts schrijven blijft natuurlijk altijd leuker, vooral omdat er bij sommigen geen bedankje af kan als je eens spontaan hun evenement aankaart. Kennelijk vind men het heel gewoon als een ander tijd en moeite steekt om gratis reclame te maken voor hun dingetje.
Een aankondiging wil ik jullie toch niet onthouden en dat is die van Kevin Smith, waarin hij over de plannen voor een tweede Mallrats-film verteld. Hij deed dit eerst via een tweet en bevestigde het nieuws bij radiozender Rock 102 KFMA.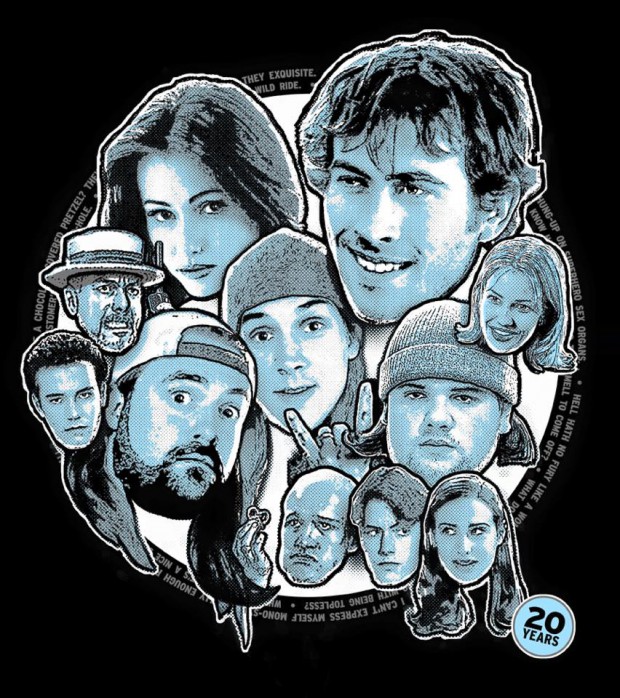 Inmiddels is het nieuws als een lopend vuurtje over het web gegaan. Ik bedoel: het staat zelfs op nu.nl. dus wellicht had je er al over gehoord. Op Facebook schreef Smith bij bovenstaande afbeelding:
After the events of Mallrats, Brodie Bruce and his longtime love Rene were married. The comic book-loving proprietor of Brodie Bruce's Secret Stash insisted on naming their only child Banner Bruce.
Smith zegt een half script voor Mallrats 2 te hebben op dit moment. In mei 2016 gaan ze draaien. Nu is Mallrats niet mijn favoriete Smith-film, maar ik heb deze toch vaak genoeg met veel plezier bekeken. Vaak met Paul dus we hebben ook veel door de film heen geluld. Geen idee waar het verhaal naartoe zal gaan, maar dat zien we wel. Vooralsnog ben ik vooral benieuwd naar Clerks III, want na dat vervolg kijk ik reikhalzend uit. Sowieso ben ik heel blij dat Smith, die ik een toffe, eigenzinnige regisseur vind, besloten heeft dat Clerks III dus niet zijn zwanenzang zal zijn.
Hij zegt dat hij nu liever films maakt die niet perse goed zijn voor zijn carrière, maar wel die hij graag wil maken. Kortom: doe waar je gelukkig van wordt. Dat betekent in mijn geval meer originele stukken schrijven en minder mededelingen doorplaatsen.