Erik Kriek maakte een prachtige omslagillustratie voor de VPRO Gids met als thema de horrorwestern Brimstone.
We zien op de illustratie hoofdrolspelers en tegenstanders Guy Pearce en Dakota Fanning. Natuurlijk maakte Kriek vorig jaar In the Pines en ik hoop van harte dat hij in de toekomst eens een lekkere western-strip maakt met alles erop en eraan.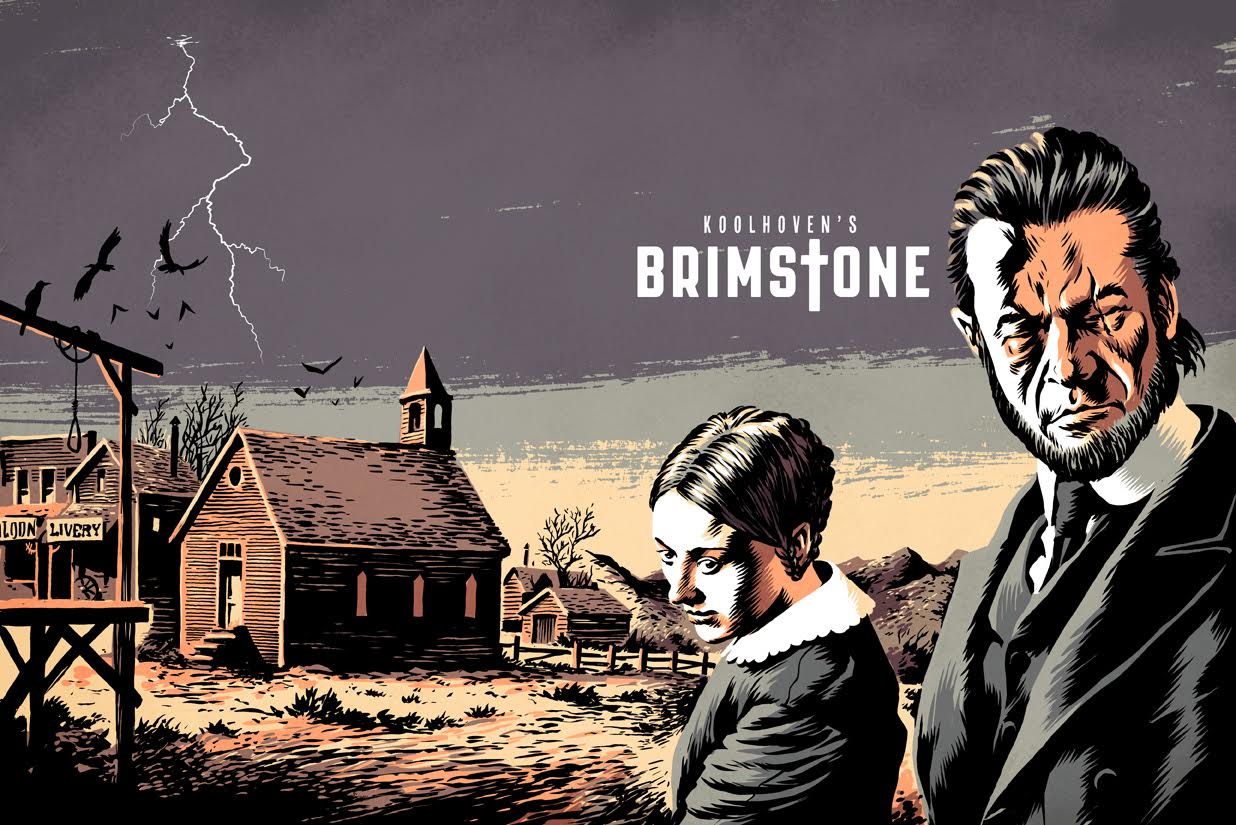 In het kort:
Brimstone is an epic thriller set in the old west. A triumphant tale of powerful womanhood and resistance against a violent past that refuses to fade.

Liz (Dakota Fanning) is a mute young woman who lives together with her husband and two children. She is a midwife and communicates through sign language, sometimes assisted by her daughter. Her relationship with her 14 year old son could be better, but otherwise Liz's life seems pretty good.

When the new reverend (Guy Pearce) climbs the pulpit in church, Liz freezes. She immediately knows she and her family are in danger.

In four chapters we see not only how the reverend tries to take everything Liz loves away from her, but also how her life has unfolded in the past.

Brimstone is a genre-bending film that draws inspiration from the American Southern Gothic genre, but also has a strong foothold in Dutch religious culture.
Wederom een film over hoe een misselijk mannetje dat het gelijk van God/Allah aan zijn kant denkt te hebben en het leven van anderen en met name vrouwen zuur maakt. Geen lichte kost dus, maar helaas wel nog steeds zeer actueel.
Brimstone werd geregisseerd en geschreven door Martin Koolhoven. Al jaren was het zijn diepe wens deze western te maken en nu draait zijn film dus in de bioscoop.
Eigenlijk zou ik vanavond naar een speciale voorstelling van deze film gaan met na afloop een Q&A met de regisseur.
Een of ander virus houdt me echter al een paar dagen aan huis gekluisterd en zorgt ervoor dat mijn lijf aanvoelt alsof mijn botten van beton zijn gemaakt. Dit ziek-zijn maakt het herschrijven van mijn boek er ook niet makkelijker op. Alles staat op een lager pitje. Brimstone moet dus even wachten…