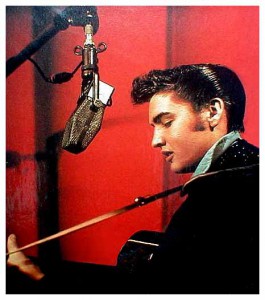 Vandaag, 34 jaar geleden overleed Elvis Presley. Dat kun je herdenken door zijn platen weer te draaien of, godbetert, een van de musicals waarin hij speelt in de dvd-speler te stoppen. Je kunt echter ook voor Bubba Ho-Tep kiezen.
Een van de beste films over The King is Bubba Ho-Tep. Hierin speelt Bruce Campbell, B-acteur extra-ordinaire, Elvis Presley op leeftijd. Hij heeft ooit van plaats gewisseld met een Elvis-imitator en slijt zijn oude dag in een bejaardentehuis waar niemand natuurlijk gelooft dat hij werkelijk de King of Rock-'n-roll is. Maar wij weten wel beter. Zijn beste vriend is een zwarte bejaarde die beweert John F. Kennedy te zijn. Nog niet gek genoeg voor je? Er waart ook een eeuwenoude mummie door het huis die zich tegoed doet aan de zielen van de bejaarden.
JFK en Elvis zijn de enige die hun huisgenoten het vege lijf kunnen redden en nemen het op tegen Bubba Ho-Tep.
Bekijk hier een compilatie van scènes waarin Campbell dik aangezet en zeer vermakelijk een Elvis op zijn oude dag speelt.
Wie serieus van het talent van Elvis wil genieten, kan het beste de documentaire Elvis: That's the way it is opzetten. Prachtige concertregistraties afgewisseld met scènes van Elvis on the road en in de repetitieruimte. Toen de film gemaakt werd, was Elvis nog in goede vorm. Snel daarna kwam hij terecht in de neerwaartse spiraal die leidde tot overgewicht, overmatig drugsgebruik en uiteindelijk zijn dood.