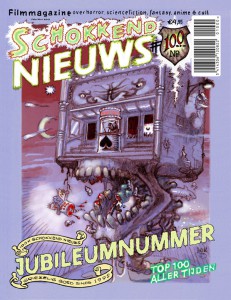 Dat Schokkend Nieuws #100 in de schappen ligt sinds vorige week, weet je natuurlijk allang. Ook dat in dit nummer de Top-100 aller tijden staat: de beste horror-, sciencefiction-, fantasy- of cultfilms ooit. Maar wist je ook dat op de site van SN de volledige Top 719 staat?
Je leest het goed, de oproep van de SN-redactie aan de lezers om een top 10 in te sturen leverde een lijst op van maar liefst 719 titels. Dat is een mooie lijst om eens helemaal af te gaan kijken om te zien van de genrefilm in huis heeft. Ik ben blij dat ik al veel films ken en dat er nog genoeg pareltjes tussen zitten die ik moet ontdekken.
De Top-10:
1 THE THING (John Carpenter, 1982)
2 ALIEN (Ridley Scott, 1979)
3 THE EXORCIST (William Friedkin, 1973)
4 BLADE RUNNER (Ridley Scott, 1982)
5 THE SHINING (Stanley Kubrick, 1980)
6 THE TEXAS CHAIN SAW MASSACRE (Tobe Hooper, 1974)
7 DAWN OF THE DEAD (George A. Romero, 1978)
8 THE EVIL DEAD (Sam Raimi, 1981)
9 JAWS (Steven Spielberg, 1975)
10 2001: A SPACE ODYSSEY (Stanley Kubrick, 1968) 225
Mijn Top-10 publiceerde ik al eerder. Ik vind het fijn om te zien dat bijna al mijn top tien films in de Top-100 staan. Alleen Spider-Man 2 en Sleepy Hollow haalden die niet, al staan ze natuurlijk wel elders op de Top-719.
Check hier de hele lijst. Veel kijkplezier!
Tags: Horror, Lijstje, Schokkend Nieuws, Science Fiction