Schokkend Nieuws vraagt om jouw favoriete top 10 genrefilms (horror, sciencefiction, fantasy, cult of anime). Uiteindelijk moet het een top 100-lijst worden voor het aankomende honderdste nummer.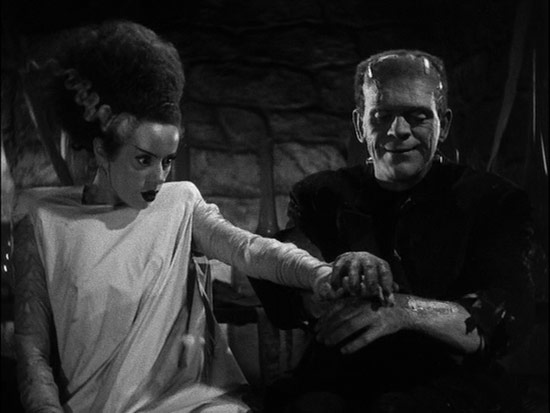 Deze films hebben mij het meeste kijkplezier bezorgd en de meeste indruk gemaakt:
1. Bride of Frankenstein (James Whale, 1935) Gothic horror op zijn best.
2. Donnie Darko (Richard Kelly, 2001) hoewel Kelly daarna niets kijkwaardigs meer heeft gemaakt.
3. Spider-Man 2 (Sam Raimi, 2004) Misschien wel de beste superheldenfilm aller tijden.
4. The Matrix (Andy Wachowski, Lana Wachowski, 1999) De eerste dan hè, de rest was droevig.
5. Ghostbusters (Ivan Rietman, 1984)
6. The Nightmare Before Christmas (Henry Selick, 1993) Geen genre fantastische film zonder stop-motion.
7. The Dark Knight (Christopher Nolan, 2008) Eindelijk een enge film-Joker.
8. The Exorcist (William Friedkin, 1973)
9. Sleepy Hollow (Tim Burton, 1999)
10. Back to the Future (Robert Zemeckis, 1985) Ongelooflijk strak script, een prachtige tijdreisfilm.
En verder eervolle vermeldingen voor de volgende titels/makers:
Nosferatu (F.W. Murnau, 1922), Duits expressionisme op zijn best.
De films van Georges Méliès, de godfather van het genre van de fantastische film.
Evil Dead 3: Army of Darkness (Sam Raimi, 1992) eigenlijk de hele Evil Dead-trilogie, maar deze is toch echt de grappigste.
X-Men 2 (Bryan Singer, 2003), een van de beste superheldenfilms ooit. Punt.
The Cabin in the Woods (Drew Goddard, 2011) Het is nog te vroeg om te zeggen hoe deze film zich over pakweg tien jaar houdt, maar vooralsnog vind ik het een van de fijnste horrorfilms sinds jaren.
La Jetée (Chris Marker, 1962) Prachtig filmexperiment.
Apocalypse Now (Francis Ford Copolla, 1979) De ultieme oorlogsfilm.