Ieder kind dat comics leest, vraagt zich wel eens af hoe de wereld eruit zou zien als superhelden en superschurken echt zouden bestaan. Scenarist Mark Millar geeft in Marvel 1985 het schokkende antwoord.
In het jaar 1985 ontdekt de dertienjarige Toby Goodman dat de superschurken uit Marvel-comics zijn gaan wonen in een oud, vervallen huis bij hem in de buurt. Dat deze figuren geen lieverdjes zijn, wordt al snel duidelijk. Dr. Doom, Dr. Octopus, Electro, Sandman en Juggernaut worden immers niet voor niets superschurken genoemd.
Wanneer ze hun aanwezigheid aan de wereld bekend hebben gemaakt, beginnen ze massaal de bewoners van het stadje Montgomery uit te moorden. Alsof het leven van Toby al niet ingewikkeld genoeg was, met gescheiden ouders en een stiefvader die het gezin naar Engeland wil verhuizen. Ver weg van zijn vader Jerry die, net als Toby, verzot is op Marvel Comics.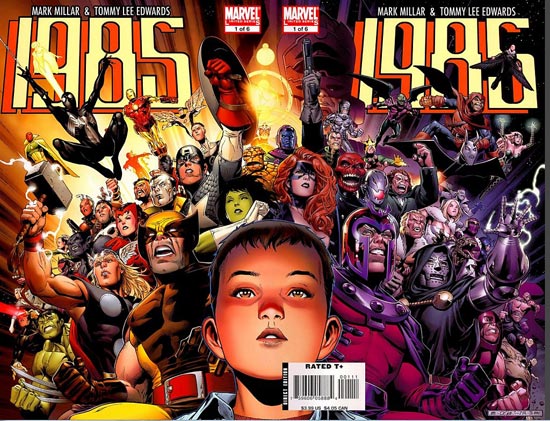 1985, een goed stripjaar
Scenaristen als Mark Millar moeten we koesteren. De Schotse schrijver hoort tot het zeldzame soort dat met originele ideeën en bijzondere kwinkslagen het ingedutte genre van superheldenverhalen weet op te frissen. Eerder bedacht hij samen met John Romita Jr. de serie Kick-Ass, waarin een doodgewone tiener besluit voor superheld te spelen, met alle blauwe plekken en gebroken ribben van dien. Ook zo'n interessant uitgangspunt, perfect uitgevoerd in de tekeningen van Romita Jr. Verder loodste Millar de lezer door het ingewikkelde cross-over verhaal Civil War en trakteerde hij de wereld op Wanted.
Samen met tekenaar Tommy Lee Edwards creëert Millar een geloofwaardig 1985, waarin de klappen die de superschurken uitdelen keihard aankomen. In de echte wereld zou geen enkel leger bestand zijn tegen de vernietigende kracht van iemand als Dr. Doom, laat staan dat ze iets kunnen uitrichten tegen Galactus, het buitenaardse wezen dat als ontbijt hele planeten verorbert.
Feest van herkenning
Marvel 1985 deed mij terugdenken aan de tijd dat ik als achtjarige de wereld van Marvel nog maar net ontdekt had en stiekem wel wilde geloven dat je door de beet van een radioactieve spin in staat was over muren te kruipen. Ach, zolang ik een goedgeschreven comic aan het lezen ben, wil ik dat eigenlijk nog steeds geloven. Dat is immers de verdienste van een goede verhalenverteller.
Millars strip is een feest van herkenning voor een stripliefhebber als ik. Niet zo gek dus dat het verhaal begint in een stripwinkel. Ik ken de comic Secret Wars die Toby daar aan het lezen is. Die serie verslond ik indertijd zelf ook. Sterker nog, zonder enige moeite herken ik de door Edwards nagetekende bestaande omslagen die aan de muur van de stripwinkel hangen. Het merendeel van die strips heb ik ooit gelezen.
Spielberg-film
1985 was het jaar dat Back to the Future uitkwam. Films van Spielberg, Joe Dante en Robert Zemeckis toonden een fantasievol en magisch Amerika, waarin buitenaardse bezoekers zomaar een bezoekje brachten aan de voorsteden en waar je naar het verleden kon reizen in een omgebouwde Delorean. Dat de Verenigde Staten in werkelijkheid heel anders bleken te zijn toen ik er een jaar ging wonen, doet niets af aan het feit dat de droomversie van Spielberg en de zijnen voor altijd aan mijn jeugdherinneringen verbonden zal zijn.
Het leuke is dat Marvel 1985 eruitziet en aanvoelt alsof je een Spielberg-film zit te lezen. Het plaatsje Montgomery had prima als decor kunnen dienen in een van zijn films. De kleding van de personages, de houten huizen, main street en het winkelcentrum in smalltown USA zien er precies zo uit als ik me van die films herinner. Net als in de verhalen van Spielberg is de hoofdrolspeler een tiener, een buitenbeentje dat ontdekt dat in de gewone wereld de meest fantastische taferelen kunnen voorkomen.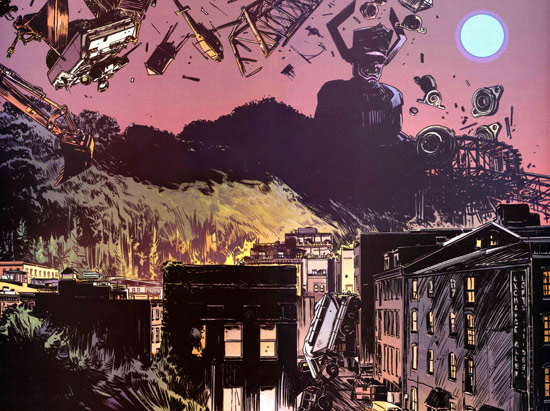 Tommy Lee Edwards
Veel van de sfeer in de strip is te danken aan de Amerikaanse tekenaar Tommy Lee Edwards. Edwards maakt het contrast met 'de werkelijkheid' duidelijk door in de Marvel-wereld alles in lichte kleuren onder te dompelen en geen zwarte vlakken te tekenen. De stripwereld ziet eruit alsof de zon altijd schijnt, alsof alles perfect op zijn plaats staat.
Ook de tekstballoons zijn in de Marvel-wereld mooier afgewerkt dan elders in de strip. De 'echte wereld' geeft Edwards vorm met veel zwarte schaduwen en dikke, vloeiende penseellijnen. De gelaatsexpressies van de personages zijn levensecht getekend. De tekeningen sluiten daarmee perfect aan op de weluitgedachte dialogen van Millar.
Met Marvel 1985 hebben Millar en Edwards een vakkundig en geloofwaardig pulpverhaal afgeleverd, dat uitstijgt boven de middelmatigheid die superheldencomics doorgaans kenmerkt.
Deze recensie is gepubliceerd in Pulpman #8.