Kun je je dat plastic masker nog herinneren dat Willem Dafoe ophad toen hij The Green Goblin speelde in de eerste Spider-Man-film? Het masker maakte hem nogal expressieloos. Niet iedereen was er blij mee.
Deze week kwam ik een screentest tegen op Spider-Man Crawl Space, waarin duidelijk te zien is dat men eerst aan een look voor de schurk dacht die veel meer overeenkomt met die uit de comics. Deze optie had Dafoe meer expressiemogelijkheden gegeven dan het plastic masker.
Production designer Neil Spisak zei indertijd het volgende over het aankleden van The Green Goblin:
'[The Goblin] proved to be a difficult character to translate in that we didn't want to go too far into unreality. Obviously, it's based on a comic book, so it's pushed some, but the idea that there was a human being there was important to Sam. What was clear was that there wouldn't be a change in the way Norman Osborn looked when he became the Goblin, that it had to do with a mental change and putting on a costume.' Bron: Behind the mask of Spider-Man, geschreven door Mark Cotta Vaz.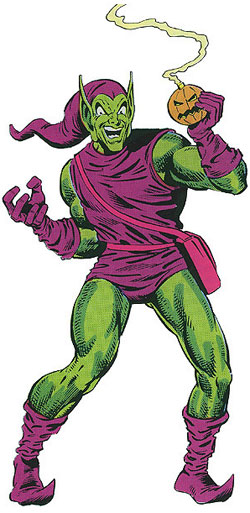 Het kostuum van The Green Goblin uit de Spider-Man comics zou niet misstaan op een Halloweenfeestje. Het wordt echter ongeloofwaardig als een zakenman als Norman Osborn daar in gaat rondvliegen, ook al is hij dan gek geworden.
Om het dragen van superheldenkostuums geloofwaardig te maken in de film, moet er een goede reden gesuggereerd worden, anders rijmt dit niet met de psychologie van de personages. In de film zijn het pak en de glider door Oscorp ontworpen in opdracht van het Amerikaanse leger, om een aanvalseenheid van supersoldaten te creëren. Het pak is een soort van harnas, ontworpen om de piloot van de glider te beschermen. The Green Goblin uit de film heeft daarom een meer technologische look dan zijn evenbeeld uit de comics. Het masker is in de comic flexibel en biedt de drager expressiemogelijkheid. In de film is dit een hightech masker/helm dat nog wel enkele kenmerken heeft van het masker uit de strip: de puntoren, een lange kin, kromme neus en de enge grijns. Het idee zou Osborn hebben gekregen van zijn collectie ceremoniële maskers, die tentoongesteld staan in zijn studeerkamer. In de film wordt dus een logische reden gegeven waarom Osborn het kostuum draagt en voor het uiterlijk ervan: Osborn steelt het pak en de glider nadat hij The Green Goblin geworden is – hij ontwerpt een masker om zijn identiteit te beschermen.
Dat gezegdhebbende, had een variant van het masker dat meer lijkt op wat we in bovenstaande video, me ook interessant geleken. Al zijn de ogen in dit masker wel erg doods.