Aardmans Shaun the Sheep dook voor het eerst op in de Wallace &Gromit-film A Close Shave en kreeg later een eigen succesvolle televisieserie. Nu is er een feature rondom het sympathieke schaap. Een telefonisch onderonsje met Richard Starzak die samen met Mark Burton de film schreef en regisseerde.
Hoe moeilijk is het om een film zonder dialoog te maken?
'Net als de televisieserie wilden we een verhaal met zo min mogelijk verbale communicatie vertellen. Dat was erg moeilijk, maar ook ontzettend leuk. We hebben twee jaar aan het script gewerkt, zelfs nog tijdens het filmen. The Artist was een belangrijke invloed en ook Pixars WALL-E. Daar zit een half uur zonder dialoog in, wat ik het beste deel vind. Zonder dialoog zijn scènes waar emoties in overgebracht moeten worden het moeilijkste te animeren. De scène waarin Shaun en de rest van kudde somber zijn omdat de boer ze niet meer herkent en dus wegstuurt, was daarom erg lastig. We hebben in sommige shots verschillende reacties van Shaun uitgeprobeerd om te zien welke het beste werkte.'
Welke sequentie was het leukste om te maken?
'De scène in het restaurant is mijn favoriet. De dieren, verkleed als mensen, proberen de andere gasten in het restaurant na te doen om niet door de mand te vallen. Erg leuk om te regisseren omdat er zo veel fysieke comedy in zit.'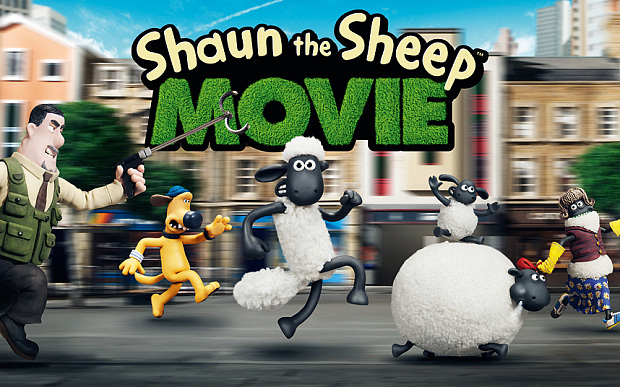 Als de kudde door de stad op zoek is naar hun baasje de boer, moest ik aan de Muppet-films van Jim Henson denken.
'Ik ben een groot fan van de Muppets. In deze film wilden we de persoonlijkheden van de dieren in de kudde en de onderlinge relaties meer uitdiepen. Ik denk dat die aanpak inderdaad wel lijkt op de Muppets, al is de film niet bedoeld als hommage.'
Shaun schijnt nogal populair te zijn in het Midden-Oosten. Er worden daar zelfs live-shows opgevoerd. Kun je dat verklaren?
'Ik denk dat het een combinatie van factoren is. De beste animatiefiguren zijn te herkennen aan hun silhouet en Shaun heeft ook zo'n herkenbaar ontwerp. Ook de visuele humor, vergelijkbaar met slapstick uit de stille film, doet het over de hele wereld goed. Het ontbreken van dialoog is ook belangrijk voor de aantrekkingskracht. We hebben veel studie gedaan naar de bewegingen en expressies van de personages. Bij Shaun moet je veel met zijn ogen doen, want hij heeft geen wenkbrauwen. Hoe onze ogen reageren op bepaalde processen in het brein is universeel over de hele wereld. Als je bijvoorbeeld naar beneden kijkt probeer je je een telefoonnummer of iets abstracts te herinneren.'
Zijn er nog plannen voor nieuwe films met Wallace & Gromit?
'We willen er zeker nog meer maken, maar Nick Park werkt op dit moment aan een film waar ze niet in voorkomen. Het kan dus nog even duren.'
Op het Haff kun je op 21 maart kennismaken met Richard Starzak en Mark Burton. Dan geven ze namelijk een masterclass voor publiek. Ook is een programma korte films van de Aardman studio te zien en Shaun the Sheep The Movie. Vanaf 25 maart draait Shaun in de bioscoop.
Het Holland Animation Film Festival is van 18 t/m 22 maart 2015.
Geschreven voor en gepubliceerd in de HAFF-bijlage van de VPRO Gids.