Junkyard, de nieuwe korte animatiefilm van Hisko Hulsing, is de Nederlandse inzending voor de Oscars van 2013.
Hisko Hulsing werkte 7 jaar aan de film, waarvoor hij naast het scenario, de animatie en de achtergrondschilderijen ook de soundtrack vervaardigde. 25.000 tekeningen en 130 handgeschilderde olie-canvassen werden voor Junkyard gebruikt. Een hele berg tekeningen dus, maar dan heb je ook wel wat, namelijk de Nederlandse inzending voor de Academy of Motion Picture Arts & Sciences in de categorie Best Animated Short Film.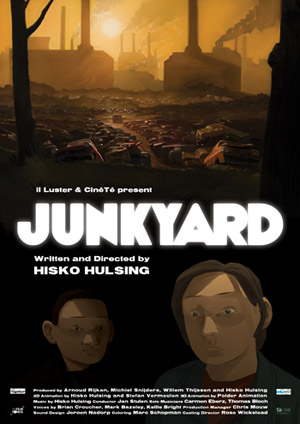 De film werd gekozen door de Oscar® selectiecommissie Animatiefilm 2012, welke bestond uit afgevaardigden van het Holland Animation Film Festival (HAFF), het Nederlands Instituut voor Animatiefilm (NIAf) en de Vereniging van Nederlandse Animatieproducenten (VNAP). De jury noemt Junkyard een meesterwerk: 'De film heeft een sterk scenario, waanzinnige visuals, een overweldigende soundtrack en een geheel eigen, krachtige beeldtaal. Junkyard is de beste film om namens Nederland te worden ingezonden voor de Oscars.'
In Junkyard wordt een man tijdens een beroving neergestoken door een junk. In de laatste seconden voor hij sterft flitst een jeugdvriendschap aan zijn ogen voorbij.
De film ging afgelopen juni in wereldpremière op het internationale animatie film festival van Annecy. De Nederlandse premiere is op 17 september in theater Tuschinski.
De film is geproduceerd door il Luster Films in co-productie met CinéTé (België).
Het is nog wel lang wachten totdat we horen of de film genomineerd is. Op dinsdag 15 januari 2013 zal de Academy de nominaties bekend maken. De Oscars® worden uitgereikt op zondag 24 februari 2013.
Hier alvast de trailer van de film. Ik ben er erg benieuwd naar.