I read Bryan Lee O'Malley's Seconds in one session. I couldn't stop reading this wonderful, feel-good science fiction story by the Canadian cartoonist/musician who is famous for creating Scott Pilgrim.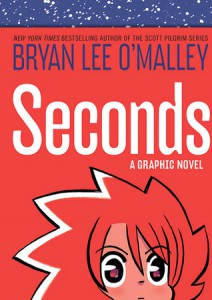 The main character of the 300-plus graphic novel is Katie, a talented young chef who runs a successful restaurant called Seconds. She's respected by her peers and in the process of opening a second restaurant that will be her own. Life looks good, but then it doesn't anymore: her ex-boyfriend pops up, her fling with another chef goes bad, and then her best waitress Hazel gets badly burned during work. Katie needs to change things, but we can't change the past, or can we?
When a mysterious girl appears in the middle of the night, it seems Katie gets a chance to change one of her mistakes and turn her life around for the better. She only has to write down what she did wrong, ingest a magic mushroom and go to sleep. And when she wakes up, she has indeed changed the past. But for Katie, life still doesn't seem perfect, so she goes against the rules and changes the past a second time. And a third, and a fourth, etc. But she soon discovers that going against the rules has dire consequences.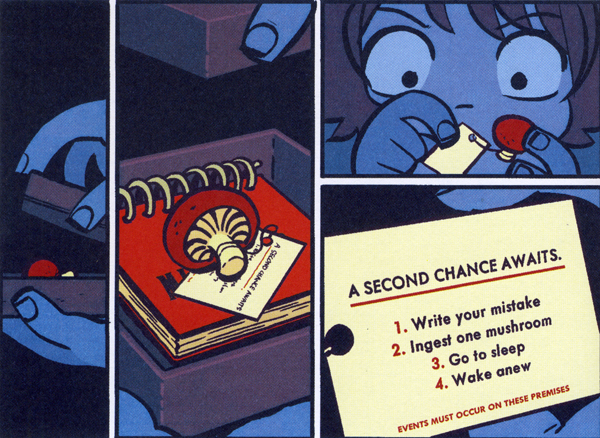 With Seconds, O'Malley taps into a desire most of us have, since we've all made mistakes we'd like to change or erase from our past. Obviously Katie will abuse the gift she got to change more and more details about her life, going further back into the past to fix things until she understands the valuable life lesson that we all have to accept our mistakes, learn from them and live with them. Although the plot is somewhat predictable, I really enjoyed its execution. Especially when the fairytale-like elements turn dark and the story becomes rather nightmarish.
Just like his famous comic series about Scott Pilgrim, O'Malley draws most of his characters in a cartoony, manga-esque style. So be ready for girls with big hair, large eyes and expressive faces. Manga-style artwork is an acquired taste; I guess it's either your thing or it isn't.
Art-wise O'Malley had assistance from Jason Fischer, a cartoonist from LA. Unfortunately the credits list doesn't state in what way Fischer assisted, whether he inked the drawings or was responsible for the decors, for instance. What I really liked about the art of this comic are some of the big panels in which the artists treat the reader to a wonderfully detailed drawing of the scenery, like these two:
Also, Nathan Fairbairn did a wonderful job coloring the book. I will definitely read Seconds a second time.
This review was written for and published on the wonderful blog of the American Book Center.