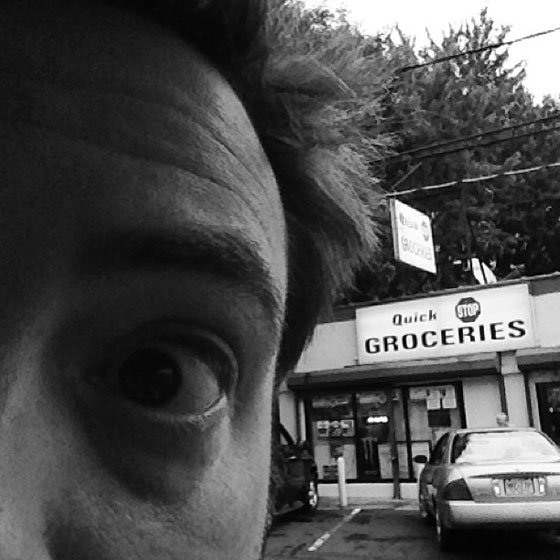 Fans van filmmaker en stripschrijver Kevin Smith herkennen zijn hoofd en het gebouwtje waar hij voor staat meteen: de Quick Stop convenience store waar hij jarenlang werkte en de eerste Clerks-film opnam. Bij de foto schreef Smith: 'Doing some way, way-preliminary scouting at the little shop of pleasures that changed my life forever…'
Ja, fans, haters en alles er tussenin: Smith is een derde (!) Clerks-film aan het voorbereiden. Op zijn site zegt hij daar het volgende over:
In the very near future, I'll be making Clerks III. It's an epic l'il swan-song – my g'bye to film, meant to showcase everything I've learned in 20 years of making movies. Since The Weinstein Company was behind Clerks II, they got first shot at any potential sequel. My producer Shannon McIntosh and I spent months preparing the submission package for Bob Weinstein: the 120 page script, 3 separate budgets for shooting in 3 different states, a cast list, a cash-flow schedule, and sundry other items with which Bob Weinstein would decide whether or not he wanted to be involved in Clerks III. The deal gives him a month to decide.
Eigenlijk zou Smith met Clerks III stoppen met films maken. Tot hij opeens een heel vreemd idee voor een horrorfilm kreeg. Over een huiseigenaar die een kamer gratis verhuurd, zolang als de huurder maar af en toe een walruspak aantrekt. Gekkigheid? Ja en gebaseerd op een krantenartikel: 'The story concerns a listing from GumTree.uk, a website that specializes in living situations and apartments to rent. In one memorable listing, a homeowner offers a living situation free of charge – the only caveat being the lodger would have to dress like a walrus from time to time,' schrijft Smith.
Daar is hij nu druk meebezig. Ze gaan draaien in september om Tusk voor Sundance 2014 af te kunnen maken. Daarna gaat Smith dus waarschijnlijk Clerks III opnemen.
This doesn't change the retirement thing at all: I'm still wrapping up my film career. I intend to close it with Clerks III – which we're now aiming to shoot March of 2014 (more on that when I get the info).
Ik ben eigenlijk erg benieuwd naar deze nieuwe horrorflick van Smith. Red State was op zijn minst origineel te noemen en lapt de klassieke scenarioregels van Hollywood aan zijn laars. De film toont dat het echte gevaar bij je om de hoek kan wonen, want godsdienstgekkies zitten overal. En een nieuwe Clerks? Als het verhaal goed is, waarom niet? Clerks II is een van de beste films over mannenvriendschap ooit gemaakt en heeft een speciaal plekje in mijn filmhart veroverd.