In Amazing Spider-man #583 zal het webhoofd de aankomende president van Amerika ontmoeten. Barack Obama is een groot fan van Spiderman.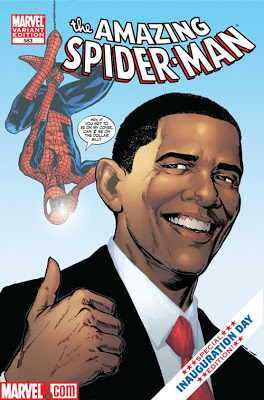 De comic is geschreven door Zeb Wells en getekend door Todd Nauck en Frank D'Armata. In dit nummer van Spiderman is Peter Parker aanwezig bij de inauguratie van Barack Obama. Veel over de plot geeft Marvel op dit moment natuurlijk niet vrij, maar in ieder geval zal de schurk Chameleon zich uitgeven voor de aankomende president.
De aankomende president op de cover van Spiderman klinkt als een marketing truc. Toch ziet uitgever Joe Quesada dat niet zo en claimt dat Marvel een ode wilde brengen aan een grote Spidey-fan. Een vriendschappelijk knikje van de ene nerd naar de andere dus, zegt Quesada: 'The future commander in chief of our country is actually the future Nerd-and-Chief. We have a geek in the White House!' Natuurlijk gaat dit nummer heel goed verkopen. Het zal uitgeverij Marvel geen windeiren leggen. Spidey meets Barack Obama komt 14 januari uit.

De premisse van de Spidermanverhalen – With great power comes great responsibility – geldt natuurlijk net zo goed voor het webhoofd als voor de machtigste man van de wereld in het Witte Huis. Misschien is Obama daarom zo'n fan van Spidey.
Embedded video from CNN VideoOverigens is Obama niet de eerste president die in een Marvel-strip voorkomt. George Bush kwam de laatste jaren regelmatig voor in de strips van Iron Man. Maar goed, Tony Stark was dan ook in dienst van gekke George.Bron: CBR
Lees ook: