Omdat de masterclass van Bob Murawski niet doorging, toonde Imagine maandag middag de Zweedse animatiefilm Metropia. Een verrassingsfilm dus die helaas weinig verrassends bood.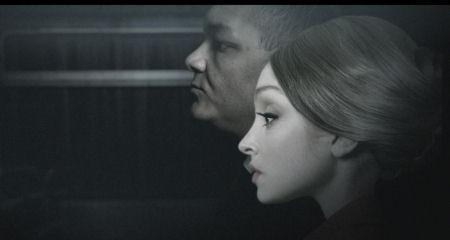 Positieve toekomstbeelden in cinema zijn op één hand te tellen. Ik kan er op dit moment even geen bedenken in ieder geval. Mistroostig is de toekomst in Metropia ook. Alle olie is opgeconsumeerd en de wereld is grijsgrauw gekleurd. Heel Europa is verbonden door een uitgebreid metronetwerk dat in handen is van een bedrijf, Trexx genaamd.
Big Brother is watching you, again!
Trexx houdt de bevolking in de gaten. Als ze tv-kijken, kijkt Trexx via de beeldbuis terug. Dankzij een speciale antiroosshampoo kunnen ze zelfs gedachten lezen en via de ogen van de subjecten meekijken.
Big Brother is watching you and making sure you've got clean hair. Of zoiets.
Voor een film waarin een coöperatie tot de gedachten van de personages weet door te dringen is Metropia helaas erg oppervlakkig. Geen van de personages wordt goed uitgediept. Van hoofdpersoon Roger weten we vooral dat hij niet blij is met zijn leven en dat hij zich zorgen maakt over de relatie tussen zijn vriendin en haar beste vriend. Die zorgen zijn niet geheel onterecht overigens, want de schurk probeert haar te verleiden zodra Roger 's avonds niet thuis komt. Ondertussen is Roger zelf in de ban van supermodel Nina. Als ware femme fatale spant ze Roger voor haar karretje en speelt hij een sleutelrol in haar plan tegen Trexx.
Ook de toekomst wordt slechts schetsmatig weergegeven: verder dan wat verwijzingen naar quizshows – die ongetwijfeld als commentaar op het huidige televisieaanbod zijn bedoeld – en gerecyclede ideeën van wat een Dystopie inhoudt, gaat het eigenlijk niet. Het gehele hoe en waarom blijft gehuld in mist, al is dat idee van de metro die heel Europa samenbindt wel aardig gevonden.
Thunderbirds
Foto's van acteurs en locaties werden digitaal bewerkt. Het characterdesign vond ik wel interessant. Het gezicht van het personage lijkt, tot op zekere hoogte, op het gelaat van de acteurs die hem speelt. Behalve dan Nina die weliswaar de stem heeft van Juliete Lewis, maar meer wegheeft van gestroomlijnde versie van de Thunderbird Penelope. (Wat mij betreft een hele verbetering, want ik ben niet zo fan van haar hoofd, maar dat terzijde.) Sowieso bewegen de figuurtjes wat stijf en omdat het hoofd proportioneel groter is dan de rest van het lijf, kreeg ik sterk het gevoel naar CGI-versies van de Thunderbirds te kijken.
Roger wordt van stem voorzien door Vincent Gallo. Udo Kier tekende voor de rol van Trexx magnaat Ivan Bahn. Ook nu is hij dus getypecast als bad guy.
Meer over Imagine: Amsterdam Fantastic Film Festival kun je lezen op het blog van Zone 5300.