Voor de eerste geautoriseerde documentaire over Kurt Cobain heeft de Nederlandse animatieregisseur Hisko Hulsing twee sequenties geregisseerd. Kurt Cobain: Montage of Heck komt uit in april.
De film van Brett Morgen ging op 24 januari in première op het Sundance festival. Aanwezig waren Courtney Love, Frances Bean Cobain en Nirvana bassist Krist Novoselic. Frances Bean, de dochter van, is de executive producer van de documentaire.
Hisko Hulsing werd in 2014 door Brett Morgen benaderd om twee grote sequenties op basis van unieke audio opnamen van Kurt Cobain te animeren in de kenmerkende klassieke stijl van Hulsings film Junkyard (2012), die wereldwijd meer dan 20 prijzen won. Hulsings animatiecrew bestond uit zo'n 18 Nederlandse, Belgische en Duitse animatietalenten en het Nederlandse productiehuis Il Luster. Voor de animatie werden 6000 tekeningen gemaakt, Hisko Hulsing schilderde eigenhandig 60 olieverfschilderijen op canvas die als backgrounds dienden.
Hier alvast één frame van de animatie: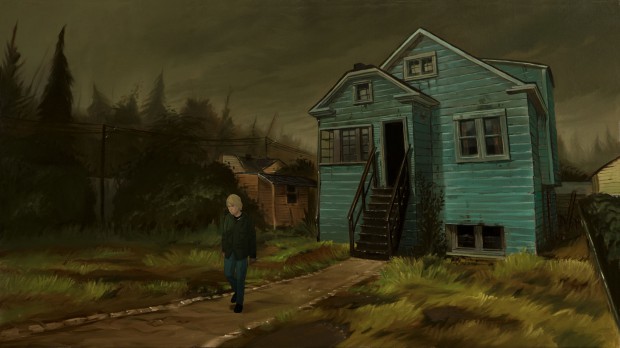 Over de documentaire hebben de makers het volgende bekend gemaakt:
The first documentary to be made with the cooperation of Kurt Cobain's family, the film is a raw and visceral journey through Cobain's life and provides no-holds-barred access to Kurt Cobain's archives, home to his never-before-seen home movies, recordings, artwork, photography, journals, demos, personal archives, family archives and songbooks. The film features dozens of Nirvana songs and performances as well as previously unheard Cobain originals.
Variety heeft al een recensie gepubliceerd. De film zal in april 2015 wereldwijd in de bioscopen worden uitgebracht door Universal Pictures en op 4 mei uitgezonden worden door HBO.