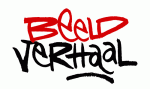 In de tweede aflevering van Beeldverhaal gaat Jean-Marc van Tol naar Amerika om zich te verdiepen in de superheld. Hij sprak onder andere met Canadese tekenaar David Finch.
Finch is vooral bekend van zijn werk voor Top Cow Productions' Cyberforce, Marvel Comics en DC Comics, zoals New Avengers, Moon Knight, Ultimatum, Brightest Day en Batman: The Dark Knight. Het interview met Finch is integraal op de site van Beeldverhaal gezet.
In het gesprek komt onder andere naar voren hoe men in Amerika comics maakt. Daar wordt een studiosysteem gehanteerd waarbij de verschillende taken onder verschillende mensen zijn verdeeld. Iemand schrijft het script, een tekenaar maakt de potloodtekeningen, een ander inkt deze weer. Natuurlijk zijn daar uitzonderingen op: je hebt ook bekende schrijver/tekenaars zoals Frank Miller. Ook Finch schrijft soms zijn eigen comics, zoals Batman: The Dark Knight, hoewel Paul Jenkins daar ook deeltjes van schrijft. In interview geeft hij aan dat zelf schrijven en tekenen toch als erg lonend ervaart. Finch wilde al jaren Batman tekenen. Als schrijver bepaalt hij dus zelf wat hij tekent en kan hij eindelijk de beelden die hij al jaren in zijn hoofd heeft op papier zetten.
Het studiosysteem is in de comicswereld ook noodzakelijk: van veel helden komt er iedere maand een deeltje van dezelfde serie uit (van Spider-Man tegenwoordig twee per maand, voorheen drie). Dat betekent dus 22 getekende pagina's per avontuur. Het is een groot contrast met veel Europese tekenaars die soms een album per jaar produceren, en sommige tekenaars die met een beetje mazzel een paar pagina's per week op papier krijgen.
Toonder in de picture
Natuurlijk kennen we in Europa ook een studiosysteem. Marten Toonder maakte daar dankbaar gebruik van. Evenals Hergé. Toevallig gaat de aankomende uitzending over Marten Toonder en zijn strips over Tom Poes en Heer Bommel. Van Tol praat in deze aflevering met onder anderen Dick Matena (Bommeltekenaar en oud-assistent Toonder), Hans Matla (stripverzamelaar en uitgever Bommelstrips), Pieter Steinz (chef boeken NRC) en Wim Hazeu (biograaf Toonder). Centraal staan de volgende vragen: Wat maakt de Bommelstrips zo bijzonder? En wat is de invloed van Marten Toonder op de Nederlandse strip?
Wat vind jij tot nu toe van Beeldverhaal?