Even snel wat stripnieuws op een rij, kunnen we daarna weer een stripje lezen in de zon.
Creatief productiebedrijf Shop Around organiseert donderdag 13 juni een avond over Comics & Strips in Pakhuis de Zwijger. Ondergetekende doet mee met een column! En verder lezingen van onder andere striptekenaar Erik Kriek, bekend van zijn reeks Gutsman en televisiepresentator Han Peekel. Underground striptekenaar Marc van der Holst wordt geïnterviewd. Grafisch ontwerper en striptekenaar Joost Swarte komt spreken. Live muziek is er van rockband The Vagary. Gratis entree.
20:00-22:00
Meer informatie vind je hier.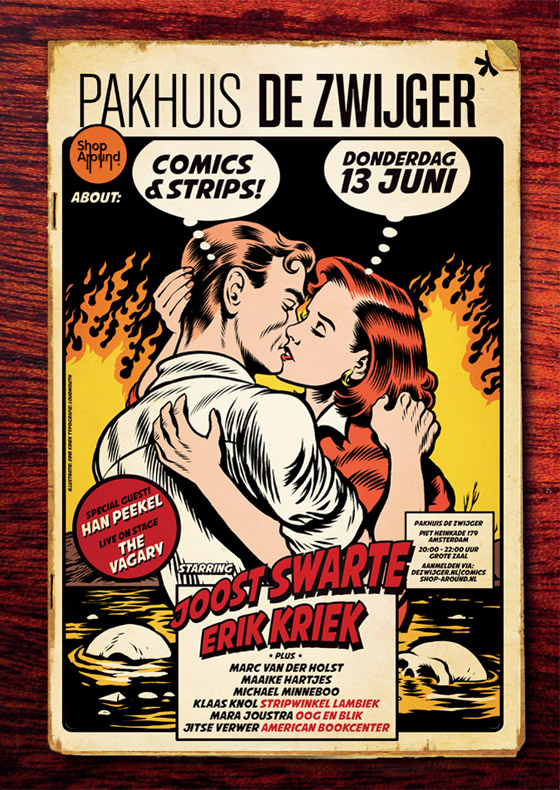 Twee dagen eerder kan de liefhebber van beeldtaal ook in Pakhuis de Zwijger terecht maar dan voor
Mini-congres In beeld: God, macht en object (dag 1)
11 juni – 20:00 uur – locatie: Pakhuis de Zwijger in Amsterdam
Don't just tell me, show me!
Er gaat tegenwoordig een overstelpende hoeveelheid beelden de wereld over. Taal alleen is niet meer genoeg wanneer het gaat om een blik op de wereld: we willen niet alleen horen of lezen, we willen vooral zien! We zijn bezeten van beelden, en de (sociale) media spelen daar gretig op in.
Waarom bestoken we elkaar met die stortvloed aan beelden? Wat zorgt voor die onmiddellijke kick die het beeld ons geeft? En welke rol blijft er over voor de taal, voor het veel langzamer verhaal, in die overvloed van flashes en snapshots?
Drie sprekers gaan op zoek naar de invloed die de al maar toenemende communicatie via het beeld heeft op onze waarneming en op ons denken.
Na de pauze praten we in kleinere groepen door over het onderwerp.
Dit 'mini-congres' wordt georganiseerd door Het Instituut voor Beeldtaal en Comik.
Lees er hier meer over.
'Liefde is…' op Cartoonfestival Knokke-Heist
Het Internationaal Cartoonfestival Knokke-Heist besteed dit jaar extra aandacht aan de cartoonreeks 'Liefde is…' van Kim Casali.
Waar: Tentoonstellingspaviljoen aan het strand ter hoogte van Casino Knokke
Van zondag 14 juli tot 15 september 2013 – Open elke dag van 10 tot 19 uur – gratis toegang
INHOUD:
1) Hedendaagse cartoonisten brengen hulde aan de liefde (hommage aan Kim Casali: LIEFDE IS…)
2) Het Cartoonfestival nodigde dit jaar 4 CARTOONTALENTEN uit.
Eva Mouton, Sacha Eckes, Pieter de Poortere en Lectrr brengen hulde aan de liefde, met een knipoog
naar Casali's legendarische figuurtjes. Het resultaat is te zien aan de ingang van het cartoonpaviljoen. De originele schetsen en droedels uit de brainstormsessies zijn te zien in het paviljoen.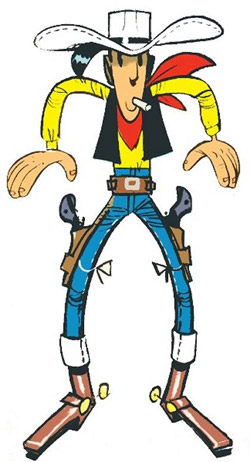 3) Daarnaast zijn traditioneel de winnaars en een selectie van de Gouden Hoed,
Belgium Press Cartoon en European Press Cartoon aanwezig (PCB – PCE). 400 grappen en grollen, gevat in rake cartoons brengen je deze zomer ongetwijfeld
aan het lachen in Knokke-Heist.
Lucky Luke in Turnhout
StripTurnhout heet vanaf nu Het Stripgids festival Turnhout en zal dit jaar plaatsvinden op 13, 14 & 15 december. Het festival richt de schijnwerpers op Lucky Luke, de zingende cowboy uit Vlaanderen, met een exclusieve tentoonstelling.
De tentoonstelling brengt hulde aan Morris (1923-2001), de tekenaar van Lucky Luke die op 1 december 2013 zijn negentigste verjaardag zou hebben gevierd. De tentoonstelling zal daarna op reis gaan, in binnen- en buitenland.
Ik ben er erg benieuwd naar. Lucky Luke is altijd een van mijn favoriete stripreeksen geweest.