Niets blijft zoals het is. Dat geldt ook voor personages uit het Marvel Universum. Het liefste zou ik the Hobgoblin, altijd een van mijn favoriete Spider-Man schurken, nog steeds zien zoals hij was toen we voor het eerst kennis met hem maakte. Maar ook Roderick Kingsley ontwikkelt zich. Dit keer tot een zelfhulpgoeroe van wannabe superhelden.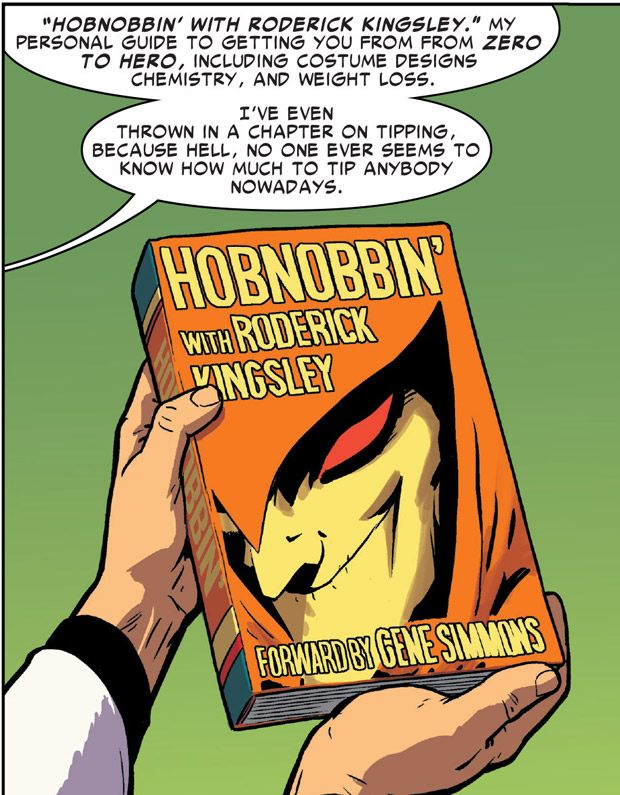 Tot voorkort verhuurde hij licenties van superschurk-identiteiten. Dat wil zeggen: voor een deel van de winst mogen anderen zichzelf uitgeven voor een bepaalde schurk, bijvoorbeeld Mysterio. Aan Phil Urich verhuurde hij de identiteit van de Hobgoblin. Tegenwoordig pakt Kingsley het anders aan en verhuurt hij de licenties, wapenuitrustingen en kostuums van uitgerangeerde of overleden superhelden. Ook laat hij meerdere mensen optreden als Hobgoblin om heldendaden te verrichten. (En geeft daar een comic over uit, hoe meta is dat?)
Tijdens een gevecht met the Red Onslaught in de miniserie Avengers & X-Men: Axis spraken Doctor Doom en Scarlet Witch een toverspreuk uit om Onslaughts brein te polariseren, maar daardoor werd het karakter van de schurken die bij deze strijd aanwezig waren ook omgedraaid. Vandaar dat Kingsley zich opeens een 'good guy' waant en de aanwezige helden slechteriken zijn geworden.
In AXIS: Hobgoblin #1 kunnen we lezen hoe dat uitpakt voor Kingsley: die treedt op als een zelfhulpgoeroe voor wannabe superhelden. Inclusief cursus, dvd en zelfhulpboek: Hobnobbin' with Roderick Kingsley. Om zijn cursisten te motiveren, houdt Kingsley speeches, zoals Emile Ratelband of Ben Tiggelaar dat hier doen. Ook doet de scène van zijn optreden me denken aan hoe Steve Jobs zijn presentaties deed. Kingsley verkoopt anderen een idee, net als zijn illustere voorgangers dat deden en doen. Jobs verkocht mensen een iPhone (en de volgende iPhone en de volgende iPhone), Kingsley verkoopt het idee dat je als superheld iets van je leven kan maken.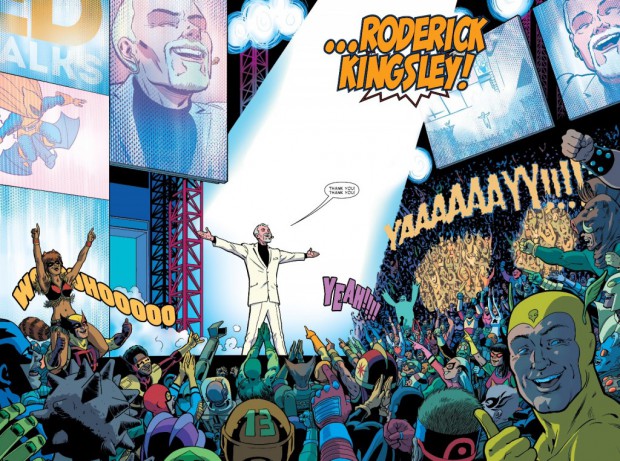 Op zich past deze ontwikkeling goed bij de persoonlijkheid van Kingsley, want hij is boven alles een zakenman. En als je anderen je vuile werk kan laten doen terwijl jij een deel van opbrengst mee snoept, waarom niet? Die houding past prima bij Kingsley. Eerder liet hij Lefty Donovan en Ned Leeds al voor Hobgoblin spelen terwijl hij zelf buiten schot bleef. En als modeontwerper stal hij maar al te graag goede ontwerpen van anderen.
Na het lezen van het eerste nummer snap ik wel hoe Kingsley aan zijn geld komt, namelijk doordat men gretig betaalt voor zijn cursusmateriaal. Maar hoe die cursisten door de superheld uit te gaan hangen hun inkomen binnenhalen is me niet helemaal duidelijk. En zelf lijken die sukkels ook niet goed over deze vraag na te denken. Nou ja, we hebben nog twee andere delen om dat uit te vinden.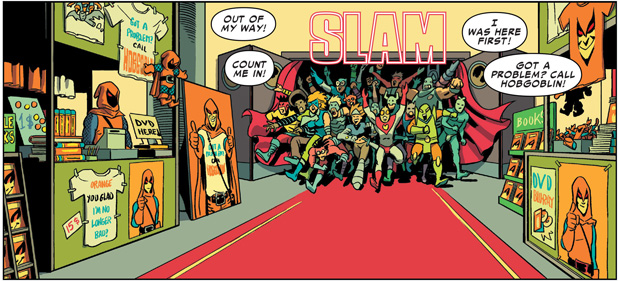 Tot slot, ben ik blij met deze ontwikkeling van Kingsley? Eerlijk gezegd zie ik Hobgoblin natuurlijk het liefste zoals in zijn eerste incarnatie, maar aan de andere kant is dit plot ook leuk om te volgen. Van alle recente aanpassingen in de wereld van Spider-Man is dit de meest genietbare. En die oude comics kan ik ook gewoon weer uit de kast trekken, wat ik de laatste tijd vaak doe.
Schrijver Kevin Shinick & tekenaar Javier Rodriguez, inkt: Alvaro Lopez. Axis Hobgoblin #1