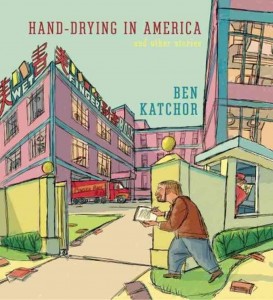 Eerder deze week besteedde ik aandacht aan het boek Hand-Drying in America and other stories van de Amerikaanse stripmaker Ben Katchor, en dat was geen toeval. Katchor trad namelijk op tijdens het Crossing Border festival in Den Haag. Bijzonder: Wim Brands interviewde hem voor zijn programma Boeken.
Nu weet ik dat Brands een grote fan is van Katchor, dus het zal hem veel plezier hebben gedaan om deze interessante stripmaker eens aan zijn tafel te hebben gehad.
Want interessant is het werk van Katchor zeker. Nu kan ik daar wederom een essay over vol schrijven, maar het is wellicht beter om het interview gewoon te bekijken. Eerst komt Joost Zwagerman nog in de uitzending aan het woord trouwens, want van hem kwam een tweedelige bundeling uit van zijn essays over Amerikaanse kunst & cultuur. Ook erg boeiend.
Boeken is op dit moment een van mijn favoriete programma's op televisie en een van de weinige uitzendingen die ik geregeld terugkijk op Uitzendingvergist.nl. Ik kijk namelijk al meer dan een jaar geen televisie meer en dat bevalt me best. Geen zapsessies meer, geen verloren uurtjes zombiestaren naar hersenloze televisie. Alleen nog heel gericht kijken via het web, dus ik kijk veel minder, maar zie en lees daarom des te meer.
Het is de schijnbare eenvoud van Boeken die me zo aanspreekt. Brands heeft iedere week schrijver of schrijvers aan zijn tafel en voert daar een boeiend gesprek mee. Dankzij het interview weet je altijd in grote lijnen waar het boek overgaat en of het iets voor je is. Door Boeken heb ik al veel nieuwe, interessante schrijvers ontdekt. Het programma is het bewijs dat je met een simpele opzet, heel kijkwaardige en geestverruimende televisie kunt maken.
Ter inleiding van het gesprek met Katchor schreef Brands een stuk over de tekenaar in de VPRO Gids deze week.