Zondag 26 april 2020
Hoe houd ik me staande in het Covid-19-tijdperk? Ik heb het geluk dat ik niet in de zorg werk of een ander essentieel beroep uitoefen. Op dit moment heb ik minder werk dan ooit als journalist en tekstschrijver, maar als ik werk, doe ik dat veilig thuis. Ondertussen probeer ik de tijd te vullen met het maken van YouTube-video's en ben ik af en toe gast bij anderen.
Recent was ik te gast bij Advertising Heroes om over mijn boek Mijn vriend Spider-Man te praten. Erg leuk om te doen. Bij de podcast Next Level Heroes kon ik een uur lang met Bas van Teylingen praten over Knight Rider. Heerlijk!
Door al die aandacht had ik zo de smaak te pakken, dat ik zelf wilde proberen te live streamen. De eerste test trok meteen een stuk of 16 kijkers, en daar was ik blij door verrast. Eigenlijk wilde ik eens kijken hoe dat live streamen ging, maar al snel kwamen enkele vaste stamgasten langs. Dat werd een uitzending van een kleine twee uur. Live streamen geeft een enorme kick. Je moet een verhaal vertellen terwijl je tegelijkertijd de chats in de gaten houdt en daarop antwoord geeft.
De tweede stream was met Djeroon als gast. Jeroen Fellinger aka Djeroon is heel actieve geek op Instagram die allerlei leuke posts maakt met de comics uit zijn collectie en de comics die hij recent heeft aangeschaft. Zo plaatst hij nu enkele dag een jaar lang een illustratie of strippagina van de Amerikaanse stripmaker Erik Larsen. Djeroon is een goed voorbeeld van hoe je meer kunt halen uit je stripcollectie en iemand die mij dagelijks inspireert zelf ook aan de slag te gaan.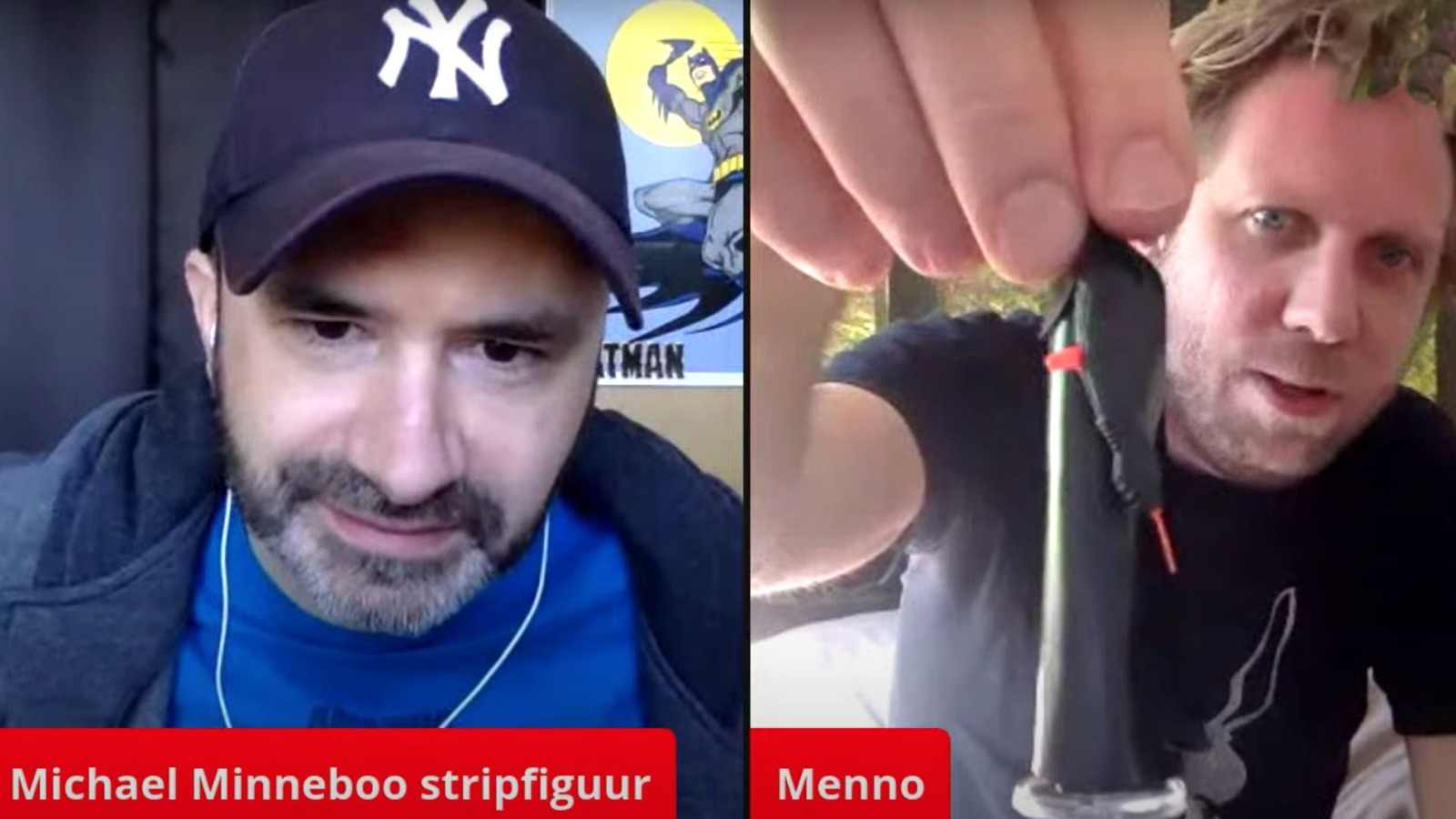 Mijn tweede gast was Menno Kooistra, die interessante video-essays en mash-ups maakt over filmonderwerpen. Zijn recente video ging om scènes uit films waarin Star Wars-speelgoed te zien is. Live interviewen is uitdagend, maar ook erg leuk. Vooral omdat het publiek de ruimte heeft om via de chat vragen te stellen. Die interactie is goud waard, en volgens mij ook waarom mensen graag naar live streams kijken.
Net als Menno gebruik ik vooral YouTube om lekker te geeken. Het blijft erg leuk om vlogs te maken over de comics die ik goed vind of om een andere manier onder de aandacht wil brengen. Zelf volg ik veel geeky YouTubers. Podcasts doen het voor mij niet zo, ik heb liever beeld bij het verhaal. De komende week heb ik twee live streams gepland staan. Een met Dutch Lucky Luke en eentje met striptekenaar Johan Neefjes. Daarna zien we wel weer verder.