It's almost Halloween, but lately my mind has been thinking about anything but Halloween.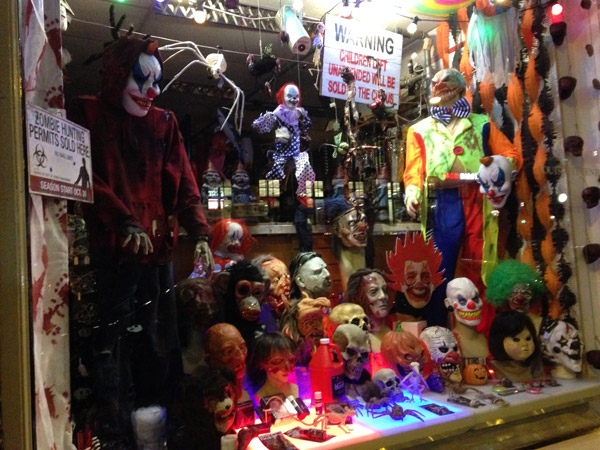 It's been a very busy October: I've written a couple of articles and interviews about comics and animation. And while I was typing away at my home office, summer became autumn and all of a sudden my favourite holiday is only two weeks away.
Well, I did write up a Top 5 of my favourite Halloween-esque comic books for Submarine Channel that will be published any day now. So, Halloween hasn't been off the map totally.
But slowly, I am getting into the Halloween spirit. Last week, I walked home from the American Book Center after I interviewed comic book artist Marcel Ruijters. He has just published a wonderful graphic novel about medieval painter Hieronymus Bosch and we talked about it at length for a pretty good crowd of people who were nice enough not to boo me off the stage and buy Marcel's book.
Walking home, I passed a party & costume shop. Taking a moment to revel at the stuff in the shop window, I felt that old familiar happy feeling I always feel this time of year, return.
Last night, I put up some of our pumpkin lights in my office and put the Halloween calendar counting down to October 31 on the shelf next to my monitor. Let autumn begin for real.
Originally published on October 16, 2015 on HalloweenCult.com.