Dit is de originele ontwerptekening van Wonder Woman van stripmaker Harry G. Peter. Hij was de eerste stripmaker die met Wonder Woman aan de slag ging.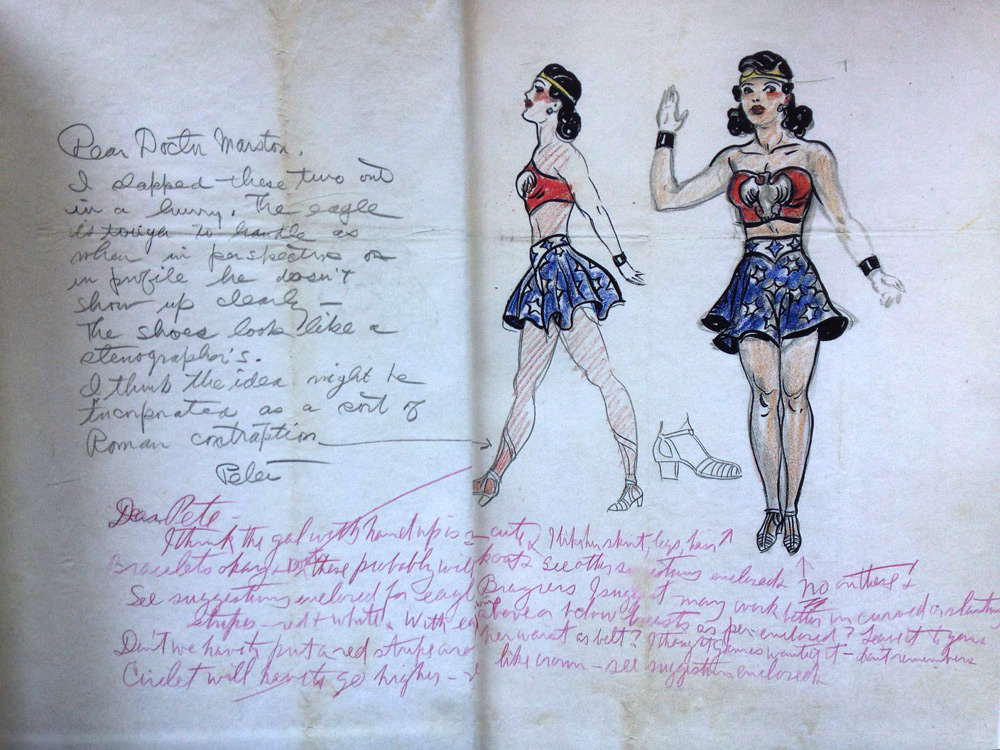 De aantekeningen in zwart zijn van hem, de rode tekst is afkomstig van William Moulton Marston, die man die Wonder Woman bedacht. Charles Moulton was zijn pseudoniem.
Dit is trouwens de instructie die Harry G. Peter van Marston kreeg bij het ontwerpen van Wonder Woman:
'Draw a woman who's as powerful as Superman, as sexy as Miss Fury, as scantily clad a Sheena the jungle queen and as patriotic as Captain America.'
Daarna tekende hij bovenstaande Wonder Woman. Marston kon zich goed in de tekening vinden maar was het niet eens met de sandalen en zag Wonder Woman liever laarzen dragen.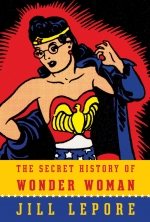 Boekwerk
De tekening staat op het schutblad van het boek The Secret History of Wonder Woman, geschreven door Jill Lepore. Dit is niet alleen de geschiedenis van dit beroemde stripfiguur, maar juist ook een biografie van Marston en zijn twee vrouwen Sadie Elizabeth Holloway en Olive Byrne. Het boek geeft ook duidelijk het verhaal weer van het vroege, Amerikaanse feminisme. Je leert bijvoorbeeld veel over de belangrijke spelers daarvan en hoe vrouwen in 1919 eindelijk stemrecht kregen.
Marston was op het gebied van psychologie een beetje een charlatan, iemand die heel goed was in zelfpromotie en in staat was goed gebakken lucht te verkopen. Met deze beschrijving doe ik hem iets tekort, maar niet veel. Toch kan ik hem ook wel weer waarderen: hij probeerde zijn ideeën over het feit dat vrouwen superieur zijn aan mannen te verpakken in vermakelijke comics rondom Wonder Woman. Ook stopte hij daar veel van, wat je zijn bondage fetisj kunt noemen, in. In de beschrijving van Lepore heeft Marston uiteindelijk iets aandoenlijks. Bovendien lukte het hem om een tegelijktijdig een relatie te hebben met twee vrouwen, die allebei bij hem in huis woonden en na zijn dood nog jaren samen hebben geleefd.
Ik vond het een fascinerend relaas. Soms raakte ik de weg een beetje kwijt omdat Lepore strooit met heel veel namen en gegevens, maar uiteindelijk ben ik een stuk wijzer geworden over de man en vrouwen achter Wonder Woman en heb ik wat meer begrepen van de strijd die vrouwen hebben geleverd voor gelijkwaardigheid.
De flaptekst:
A riveting work of historical detection revealing that the origin of Wonder Woman, one of the world's most iconic superheroes, hides within it a fascinating family story—and a crucial history of twentieth-century feminism

Harvard historian and New Yorker staff writer Jill Lepore has uncovered an astonishing trove of documents, including the never-before-seen private papers of William Moulton Marston, Wonder Woman's creator. Beginning in his undergraduate years at Harvard, Marston was influenced by early suffragists and feminists, starting with Emmeline Pankhurst, who was banned from speaking on campus in 1911, when Marston was a freshman. In the 1920s, Marston and his wife, Sadie Elizabeth Holloway, brought into their home Olive Byrne, the niece of Margaret Sanger, one of the most influential feminists of the twentieth century. The Marston family story is a tale of drama, intrigue, and irony. In the 1930s, Marston and Byrne wrote a regular column for Family Circle celebrating conventional family life, even as they themselves pursued lives of extraordinary nonconformity. Marston, internationally known as an expert on truth—he invented the lie detector test—lived a life of secrets, only to spill them on the pages of Wonder Woman.

The Secret History of Wonder Woman is a tour de force of intellectual and cultural history. Wonder Woman, Lepore argues, is the missing link in the history of the struggle for women's rights—a chain of events that begins with the women's suffrage campaigns of the early 1900s and ends with the troubled place of feminism a century later.
Deze video geeft een aardige weergave van de geschiedenis van Wonder Woman en de ideeën van Marston: