I've just finished reading The Sandman: Overture and I'm flabbergasted. This is a wonderfully written comic book, with beautiful artwork and coloring. It is a world by itself, and a narrative that reads like a dream. A very strange and fascinating dream.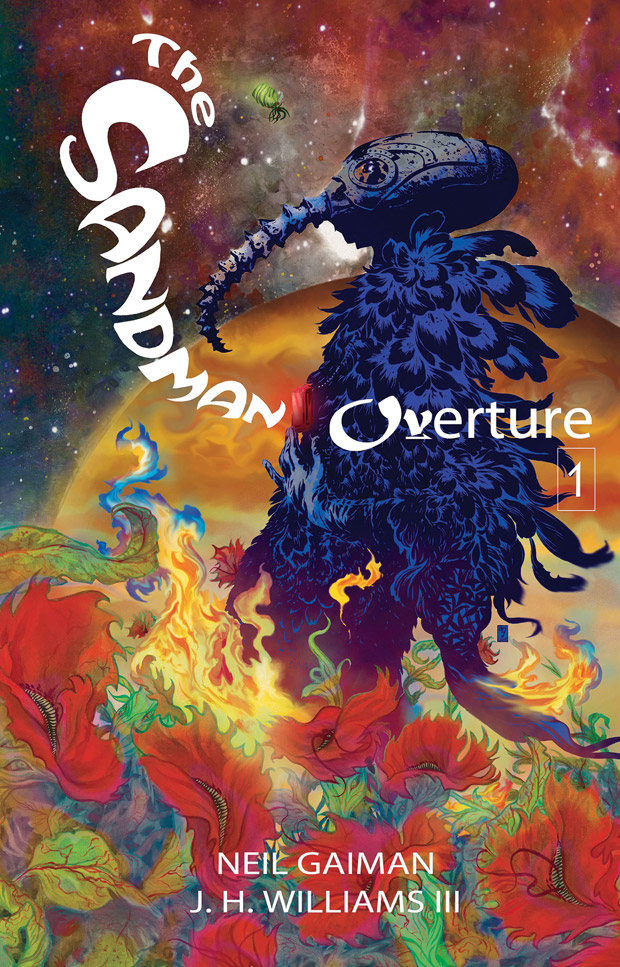 The Sandman is a critically acclaimed comic book series written by the talented and award winning Neil Gaiman (Coraline, American Gods, The Ocean at the End of the Lane), which ran for 75 issues and was published between November 1988 and March 1996. Different artists visualized the stories, such as Sam Kieth, Mike Dringenberg, Jill Thompson, Shawn McManus, Marc Hempel, and Michael Zulli. Dave McKean made his trademark covers for the series.
The Sandman series revolves around Dream, also known as Morpheus and by many other names, who is the Lord of Dreams. He is one of the seven Endless: mythological creatures, anthropomorphic personifications of an aspect of existence. Besides the king of dreams we have Destiny, Death, the twins Desire and Despair, Delirium, and Destruction. I've always liked Gaiman's interpretation of Death: a smart, sexy gothic woman. She's so likable; you almost wish she would pay you a visit. (But please, not for a long time, Death.) Part of the Gaiman magic is his talent for rounded characters with a distinct personality, and writing weirdly fantastical and fascinating stories.

The Sandman: Overture was published by DC Comics' Vertigo imprint between 2013 and 2014 as a six part comic book series and is now collected as a wonderful hardcover deluxe edition. The story takes place before the original Sandman series, which makes this prequel either a very interesting introduction to this character and his world for those who are not familiar with the comic, or a wonderful reacquaintance for those who have read the series. The original series starts with Dream being captured by a black magic organization and being held prisoner for 70 years. The Sandman: Overture explains why it was so easy for them to capture him and why he was so exhausted at the beginning of the series. It's a tale that has been in Gaiman's mind for quite a long time and being able to read it now, one could compare to a new, and thankfully good, Star Wars movie being released after all those years.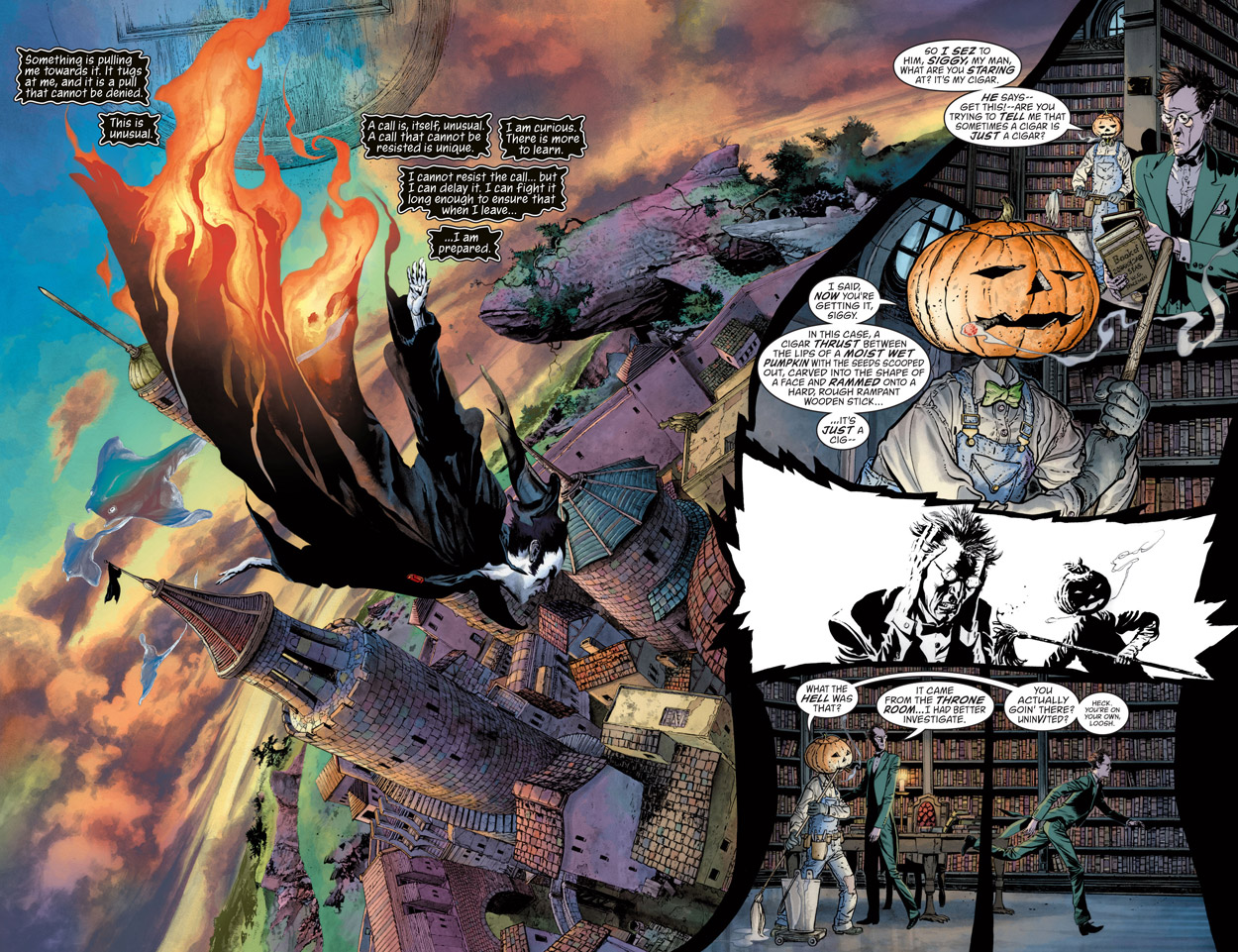 In short, Overture reads like this: when a sentient star has lost its mind, its madness threatens to unravel the universe as we know it. It's up to the Sandman and his companions, a young alien girl and a cat, which is basically an alternate form of Morpheus himself, to prevent the catastrophe from happening. Yes, that sounds a bit weird, but frankly a Neil Gaiman story is something one has to experience, and cannot be easily summarized in a few sentences. Because the story reads like a dream itself and is very layered, sometimes more questions are raised than answered. A quality I like very much in Gaiman's writing. The eloquent English scribe gives the reader the freedom to imagine and ponder. At the same time, because not all is crystal clear at face value, one feels invited to re-read the story right after finishing it.
Perfectly matched with Gaiman's kaleidoscopic script is the artwork by J.H. Williams III, which is just stunningly beautiful and richly detailed. Williams uses organic layouts that give the story a unique flow and underscore its dreamlike quality. The coloring by Dave Stewart compliments the artwork perfectly. Frankly, visually this is one of the best comic books out there at the moment. If anyone needs to convince others that comic book artwork can be as rich and beautiful as anything hanging on the walls of museums, this book will be a hell of a convincing argument.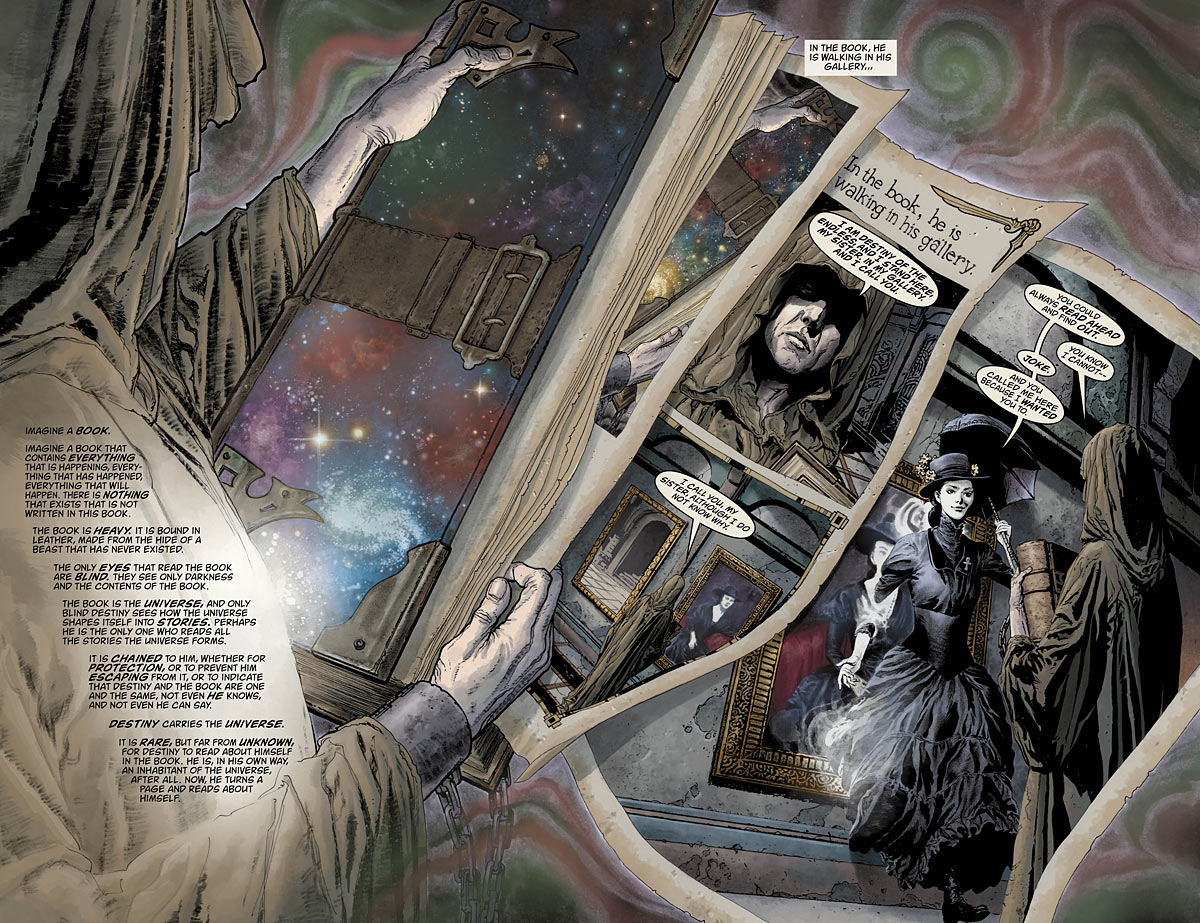 I highly recommend buying the deluxe edition because it contains more than 40 pages of behind-the-scenes material that includes interviews with Neil Gaiman, J.H. Williams III and colorist Dave Stewart, notes on the covers by Dave McKean and pages from Williams' sketchbook.
This review was written for and published on the wonderful blog of the American Book Center.