Have you always wondered what sort of world is hidden behind the counter of your favourite bistro, bar or restaurant? Well, if you read Over Easy by Mimi Pond you'll get a very entertaining and revealing look in the world of waiting.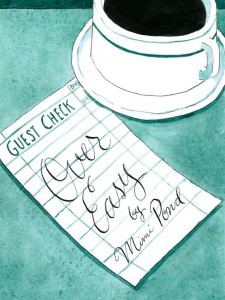 Frankly I couldn't wait tables if my life depended on it. I am simply too clumsy to be a waiter. Thankfully, Margaret Pond isn't. When she is denied financial aid to cover her last year of art school, Margaret gets a job as a dishwasher in the Imperial Café and soon becomes a waitress.
Over Easy is Mimi Pond's freewheeling graphic memoir about her life and times at Mama's Royal Café in Oakland, California, in the late seventies. An era in which the sensitivities of the hippie movement faded away and were replaced by Punk's angry outlook on life. It's also the era in which the staff of the Imperial Cafe, besides having a coffee and a fag, take a recreational sniff of coke on their lunch breaks.
Pond is a cartoonist, illustrator and writer. She has created comics for different publications including the Los Angeles Times. Television credits include the first full-length episode of The Simpsons, and episodes for the shows Designing Women and Pee-Wee's Playhouse.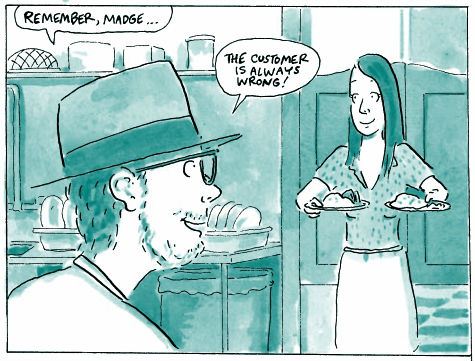 On the menu we have an interesting collection of colourful characters, Margaret's colleagues. There is the friendly Lazlo Merengue who runs the place – if you apply for a job and tell a joke he likes, you are hired. There is Sammy the cook and wanna-be poet, who marries one of the waitresses on a whim while they're spending a drunk weekend in Reno. And then there are the lovely waitresses, each with their own outspoken personality. They all imagine themselves to be the stars of the little dramatic theatre that is the Imperial Café. All the regulars and the staff have pseudonyms and Margaret is christened Madge.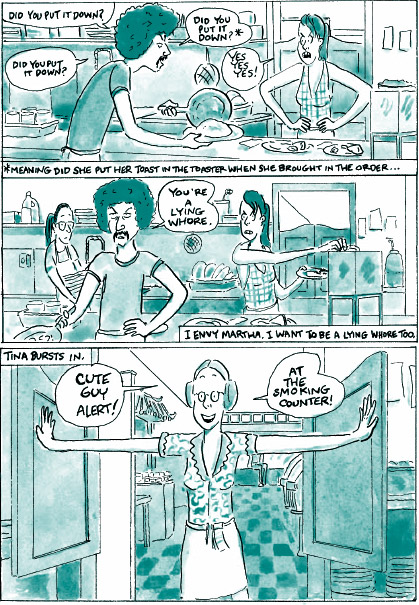 The book is filled with well-written observations, and I especially liked the way Mimi portrayed the characters. Her voice-over is very witty and light of tone. For instance, this is how she describes Helen, one of the waitresses: 'Helen is tall, and without being what you'd call classically beautiful, manages to pull off this punk Lauren Bacall thing that drives men wild. She has deadpan delivery, and she hardly ever smiles. But when she does, all men become her slaves. And if you make her laugh, well, the clouds part, the sun comes out, life looks great again. I am determined to learn her secrets.'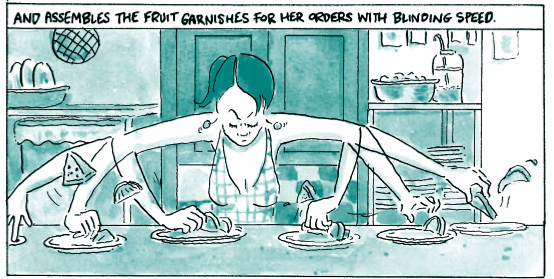 The Imperial Café community seems to be as without direction as the plot of the book, which moves along at a slow, free-wheeling pace. The story climaxes at a poetry night on Halloween, if one could call it a climax. Actually the book is pretty much open-ended and on the last page the story seems to be far from finished. Let's hope Pond will have a sequel finished soon.
This review was published on the lovely blog of the American Book Center.