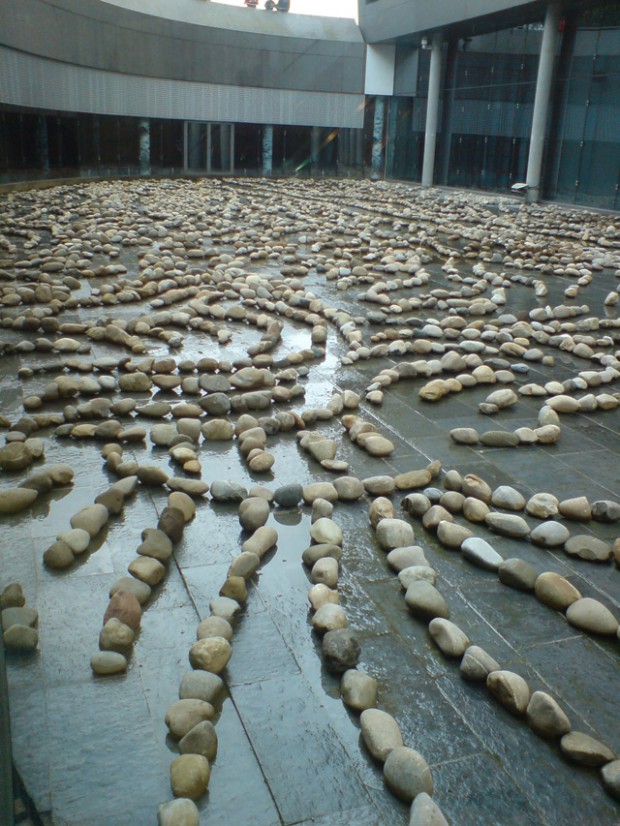 Een tijdje geleden bezocht ik het Van Gogh Museum te Amsterdam voor de boeiende tentoonstelling over het symbolisme.
De vijver was bezaaid met stenen:
Het patroon van stenen in de vijver is gebaseerd op Vincent van Goghs schilderij Korenveld met maaier (1889), dat in de tentoonstelling Dreams of nature een belangrijke plaats inneemt. Dit ontwerp is gemaakt door de vormgevers van de tentoonstelling, Maarten Spruyt en Tsur Reshef, en verwijst naar Japanse tuinen waarin vaak stenenpatronen gelegd zijn. Het patroon in de vijver is te bewonderen vanaf het Museumplein en vanuit de corridor van de tentoonstellingsvleugel, die voor Dreams of nature is omgetoverd tot een berkenbos. De tentoonstellingsvleugel, ontworpen door de Japanse architect Kisho Kurokawa, staat op deze manier geheel in het teken van de natuur.
Tags: Amsterdam, Art, Museum, Vincent van Gogh