Vanavond zit ik niet thuis voor de bank naar Van Kooten en de Bie sloegen weer toe te kijken. Dat wordt uitzending gemist. Ik zit vanavond een nerdgasm te beleven in Edinburgh bij niemand minder dan Kevin Smith.
Want helden zijn er om te vereren.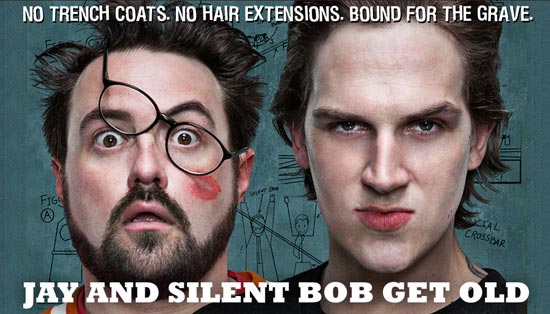 Award winning film icons Kevin Smith and Jason Mewes made history and fans all over the world with their unique alter-ego characters Jay and Silent Bob. Now, for the first time ever the comedy duo are crossing the pond and heading to the UK.

See them live as they bring to life their hugely successful comedy podcast 'Jay and Silent Bob Get Old'. These shows will be recorded as the stories evolve live in front of the audience, and released for free on www.smodcast.com, giving UK fans a rare opportunity to get up close with their unique, uncensored brand of storytelling.
Ik zag Smith al eerder op een podium in Londen een paar jaar geleden. Ook was ik eerder in Edinburgh, toch een van de mooiste steden die ik ken. Het wordt dus een dubbel weerzien.
Over mijn avonturen in Edinburgh in 2007 schreef ik een uitvoerig verslag. Mocht je zin hebben om te lezen:
Deel 1: Girls, Ghosts and Warhols,
Deel 2: City of the Dead,
Deel 3: Polen, Nieuw-zeelanders en Onzichtbare Vrienden,
Deel 4: Serpenten, tombes en Sherlock Holmes,
Deel 5: Andy Warhol & Harry Potter,
Deel 6: Arthur, Dante, Rose en Bobby.
Deel 7: Slot.