In het weekend van zaterdag 28 en zondag 29 november presenteert Zone 5300 een keur aan (Zone 5300-) auteurs en kunstenaars die uniek werk te koop aanbieden tijdens de Winter Sale editie 2009.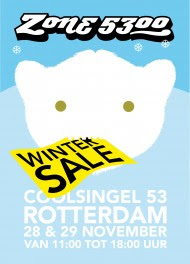 Wilt u een fraaie gesigneerde zeefdruk van Marcel Ruijters, of een gesigneerde print van Evalien of Marc Kolle, of liever een leuk T-shirt van Argibald? Een originele tekening van Erik Wielaert, of een geinige button van Uier? Dan moet u hier zijn!Het zeer diverse werk wordt te koop aangeboden aan voor vriendelijke prijzen vanaf € 1,-! Ideaal dus voor wie op zoek is naar een origineel kado voor de feestdagen of gewoon zelf een uniek kunstwerk in huis wil halen. Zie hier de lijst met alle deelnemers.
Locatie: Studio Hergebruik aan de Coolsingel 53, hartje Rotterdam (makkelijk te bereiken vanaf CS met de tram of metro).
Tags: Pretvertorial, Strips, Zone 5300