Wanneer ik mensen boven de vijfenveertig ontmoet, word me nog wel eens gevraagd of ik familie van wielrenner Gaby Minneboo ben. Volgens mij is hij een neef van mijn opa, maar zeker weten doe ik het niet, is dan meestal mijn antwoord. In wielrennen ben ik nooit geïnteresseerd geweest en de Tour de France zie ik toch vooral als een opeenhoping van dopingschandalen. Die wedstrijd draait in mijn ogen meer om grote financiële belangen en niet om sportiviteit. Daarom sloeg ik dan ook aarzelend Jan Cleijnes Helden van de Tour open.
Met de striproman Helden van de Tour brengt Jan Cleijne ter gelegenheid van de honderdste Tour de France, die dit jaar gereden wordt, een eerbetoon aan de helden en gevallen helden uit de wielergeschiedenis. Zoals, Lucien Buysse, Fausto Coppi, Jacques Anquetil, Eddy Merckx en natuurlijk Joop Zoetemelk. Cleijne gaat daarbij niet de zwarte bladzijden uit de weg. Er is ook een hoofdstuk gewijd aan dopingschandalen zoals rond Lance Armstrong.
En het begon allemaal zo romantisch in 1903, toen Herni Desgrange een wielerwedstrijd bedacht. Desgrange was de hoofdredacteur van het tijdschrift L'Auto en hoopte met de Tour de France de verkoop ervan op te krikken. Op 1 juli dat jaar werd de allereerste etappe van de allereerste Tour de France gereden, een rit van Parijs naar Lyon, maar liefst 467 kilometer lang. Cleijne brengt die eerste dagen van de Tour prachtig in beeld, als waren zijn stripplaatjes stills uit een oude film. Eigenlijk is het hele boek prachtig getekend en bovenal: meeslepend. Omdat ik niet weet wie welke tour heeft gewonnen, zijn de verbeeldde strijdtaferelen tussen de favoriete rijders uit de verschillende tijdperken extra spannend om te lezen. En Cleijne bedient zich geregeld van aantrekkelijke visuele metaforen om zijn verhaal te vertellen: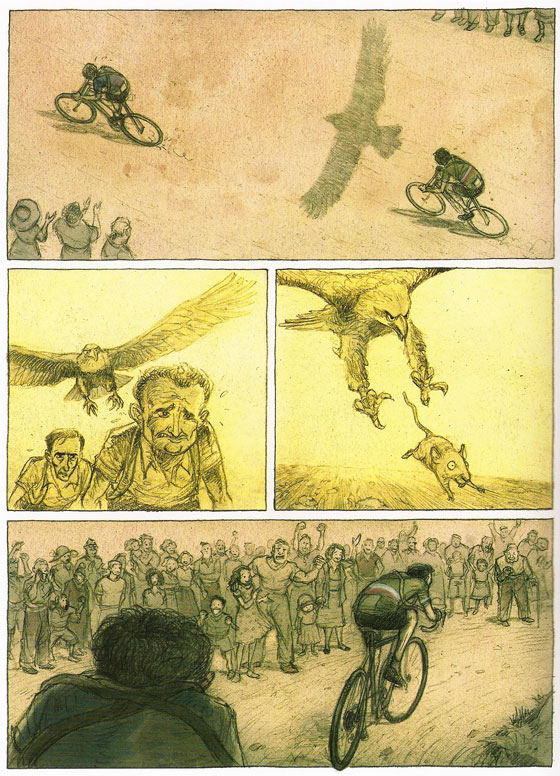 Overigens ziet Cleijne de toekomst van de Tour positief in en eindigt met een hoofdstuk waarin hij hoopt dat de Tour in de toekomst niet meer zal draaien om wie de technisch beste fiets kan te betalen of wie de beste doping gebruikt, maar om een eerlijke strijd tussen sporters.
Jan Cleijne (1977) is striptekenaar, illustrator en amateur wielrenner. Zijn passie voor de sport mag dus voor zichzelf spreken. Gelukkig heeft hij dankzij zijn vakmanschap die passie weten te gieten in een onderhoudende striproman.
Kortom, een Tour-liefhebber ben ik nog steeds niet, maar ik heb me goed vermaakt met Helden van de Tour. Ik raad iedere wielerliefhebber dit boek dan ook aan.
De boekpresentatie vindt vrijdag 31 mei plaats in Lambiek te Amsterdam om 16.30 uur. Zaterdag 15 juni signeert Cleijne het boek in De Bijenkorf Amsterdam vanaf 16 uur.
Jan Cleijne. Helden van de Tour
Oog & Blik/De Bezige Bij, € 19,90.
ISBN 978 90 5492380 0