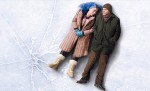 Ik kan erg genieten van toevallige ontmoetingen.
Zondagmiddag liep ik samen met Merel Barends een bagelzaakje in het centrum van Amsterdam uit. We hadden even gezellig bijgepraat over onze bezigheden. Op weg naar huis besloot ik spontaan om een stukje door het Vondelpark te lopen. Het was een lekkere herfstachtige dag, leunend aan de winter. Koud, maar mooi weer. Meerdere Amsterdammers hadden het idee om door het park te lopen, maar het was lang niet zo druk als anders. Dan is het park op zijn fijnst: als je er nog kunt lopen zonder het gevoel te hebben onderdeel te zijn van een polonaise.
Opeens zag ik in een groep mensen vriend Hans lopen. Toen ik nog in Hoorn woonde, ging ik geregeld bij Hans langs of spraken we af in de stad. Sinds ik naar Amsterdam ben verhuisd, verwaterde het contact wat. Dat soort dingen gebeuren natuurlijk. Toch dacht ik laatst nog dat ik Hans weer eens moest bellen om samen een keer koffie te gaan drinken.
Hans liep samen met enkele collega's van het Filmhuis naar het Eye instituut voor het jaarlijkse uitje. Interessanter vond ik zijn plannen om vanaf januari een halfjaar te gaan reizen. De wandeling was kort en de afspraak om binnenkort echt af te spreken was snel gemaakt.
Ik hou erg van die kleine toevalligheden in het leven. Had ik niet van het een op andere moment besloten om het park in te duiken, dan had ik Hans die dag niet meer gezien. Wie weet wanneer we dan weer contact hadden gekregen.
Ik geloof zeker niet in een hogere macht of dat soort dingen. Toch moet je de kansen grijpen die dit soort momenten je bieden. In dit geval een hernieuwd contact met een oude vriend.