De winnaar van de VPRO gids coverontwerpwedstrijd is een prachtige illustratie van Roel Seidell die vragen oproept: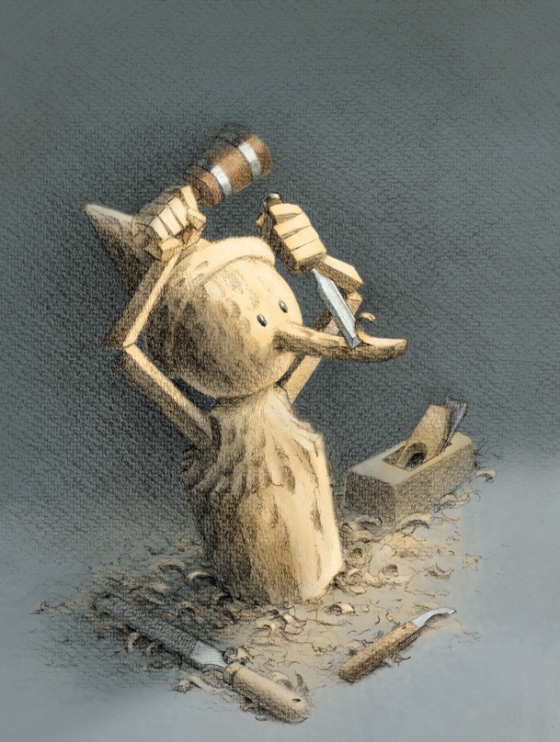 Ieder jaar vraagt de redactie van de VPRO gids aan de lezers om een cover te ontwerpen voor de eerste gids van het jaar. Dit keer was het thema 'doe het zelf'. Hoofdredacteur Hugo Blom, met Angelique Viester en Beate Wegloop de jury, licht toe: 'Uiteindelijk zagen we het meest in de Pinokkio van Roel Seidell. Want wat is hier aan de hand? Is Gepetto even weggelopen en besluit het houten ventje het werk zelf af te maken? Of zijn we al verder heen in het verhaal? Waarom is zijn neus zo lang en probeert hij die met beitel en hamer in te korten? Is Pinokkio de verbeelding van de hedendaagse bankier die zichzelf probeert bij te snijden en in te perken? U merkt, we sloegen volledig op hol, altijd een goed teken. Naar deze intrigerende cover willen we wel een week kijken.'
Intrigerende beelden roepen vragen op. En dat is met Seidells illustratie het geval. Daarnaast is het ook nog eens een heel mooi beeld.
Benieuwd naar de andere inzendingen? Die kun je hier zien.
Overigens vind ik het een mooi thema: Doe het zelf. Of in het geval van de telkens falende overheid: ga  maar naar huis politici en ambtenaren (en natuurlijk zonder wachtgeld), we doen het zelf wel weer. Burgers nemen steeds meer het heft in eigen handen. We beginnen steeds meer zelf dingen te organiseren. Zoals een wijkblog beginnen om buurtdemocratie uit te dragen. Zelf weer aan de slag gaan en je niet afhankelijk opstellen van die zogenaamde officiële instanties lijkt me een goed uitgangspunt voor 2014.