Soms kom je online de mooiste vintage pulpcovers tegen. Zoals deze: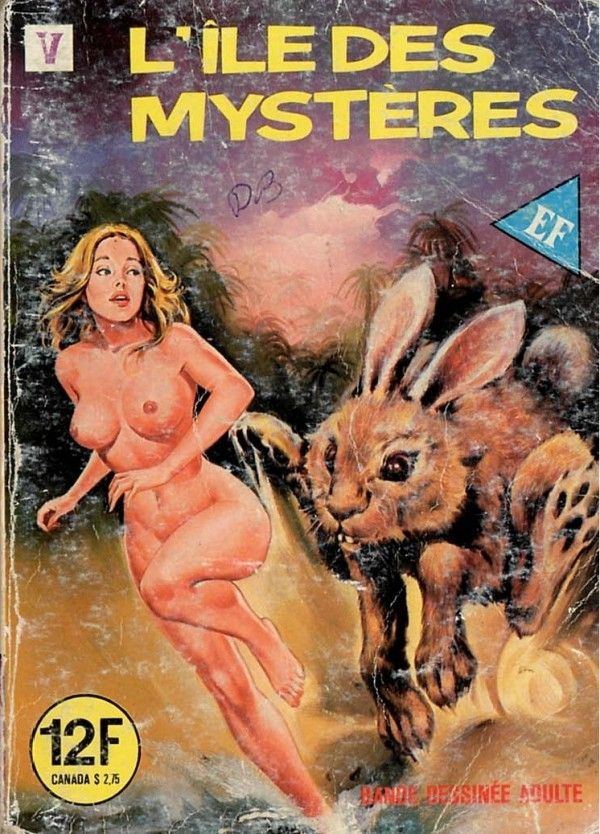 Bij het zien van zo'n illustratie ben ik meteen benieuwd naar welk verhaal er achter schuilt. Een naakte schone die achtervolgd wordt door wat een megagroot konijn lijkt. Of is het een haas? Waarschijnlijk worden op dit mysterieuze eiland allerlei vreemde experimenten uitgevoerd. Dat spreekt natuurlijk tot de verbeelding.
Volgens deze bron is de cover getekend door Francesco Blanc die meer van dit soort covers op zijn naam heeft staan. Waarschijnlijk tekende hij ook het binnenwerk.
Helaas heb ik geen of de betreffende uitgave ook in het Nederlands of Engels is verschenen.
Ik moet binnenkort maar eens naar winkels gaan waar ze dit soort pulpstrips verkopen. Mocht je nog een goed adresje weten, dan hou ik me warm aanbevolen.
Nu we het toch over sexy hazen op een cover hebben. Deze kwam ik dezelfde dag tegen: