De laatste tijd probeer ik video's in een long take op te nemen zodat ik de opnames niet meer hoef te monteren.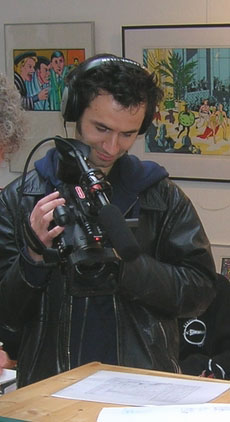 Al langer dan ik blog maak ik video's. Eerst op de kunstacademie, later voor Intermediair en weer later voor diverse opdrachtgevers. Ik publiceer ook veel zelfgemaakte video's online, die ik puur voor de lol maak. Interviews met markante persoonlijkheden, bloggers en vooral veel stripmakers. Het blijft fascinerend om tekenaars aan het werk te zien en het blijft leuk om anderen daar deelgenoot van te maken.
Monteren kost echter veel tijd. Ik ben gauw een halve dag of meer aan een video kwijt. Dat kan ik me niet altijd permitteren omdat ik eigenlijk met andere dingen bezig hoor te zijn. Ook worden sommige video's gewoon niet zo goed bekeken, zoals de Zoo City-serie. Daar zijn maar een paar belangstellenden voor.
Daarom draai ik de laatste tijd steeds vaker een video in één take. In één lange opname probeer ik eigenlijk hetzelfde te doen als wanneer ik een reportage zou monteren. Soms lukt dat heel aardig, zoals dit atelierbezoek bij Cees Franke. Nu kan Cees ook goed en duidelijk over zijn werk vertellen, dus dat scheelt de helft.
Het is een leuke uitdaging om een video in één keer op te nemen. Het verhoogt mijn concentratie en terwijl ik door de lens kijk, probeer ik nog beter de omgeving in de gaten te houden dan wanneer ik een video draai die ik later ga monteren. Een goed voorbeeld hiervan is deze video waarin stripmakers Joe Prado en Ivan Reis aan het tekenen zijn. Ik probeer zo veel mogelijk het ontstaan van de tekeningen die ze maken te laten zien terwijl ik tussendoor iets van de sfeer in stripwinkel Henk probeer weer te geven. Natuurlijk kun je die opnames ook monteren en de acties indikken, maar door alles realtime te laten zien, inclusief herkadrering, krijg je mijns inziens nog beter een idee van hoe het was om er live bij te zijn. In wezen is het een vorm van live, zij het dan later. Later live of zoiets.
En het mooie is: als ik die long take van 19 minuten heb gedraaid, kan ik hem direct op YouTube zetten en heb ik er geen omkijken meer naar. Daarna kan de hele wereld de mannen in actie zien.