Stan Lee en Steve Ditko creëerden Spider-Man in 1962 voor een kort verhaal in Amazing Fantasy #15. Maar was dit Halloweenkostuum misschien een belangrijke inspiratiebron?
Het bedrijf Ben Cooper, Inc. verkocht sinds 1937 Halloweenkostuums voor kids. Daar zaten bijvoorbeeld kostuums bij op basis van Disneyfiguren, zoals Donald Duck en Sneeuwwitje. In de jaren vijftig verkocht Cooper een kostuum met de naam Spiderman en dat zag er zo uit: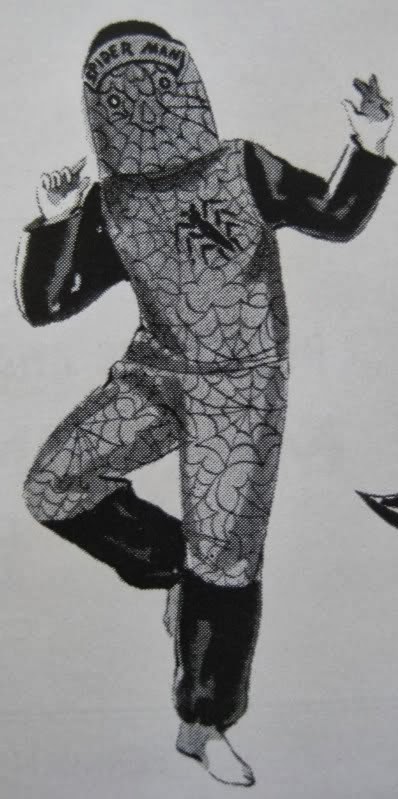 In deze foto zien we een update van het kostuum: men had het masker aangepast zodat kinderen beter konden zien, wat handig is bij het oversteken bijvoorbeeld.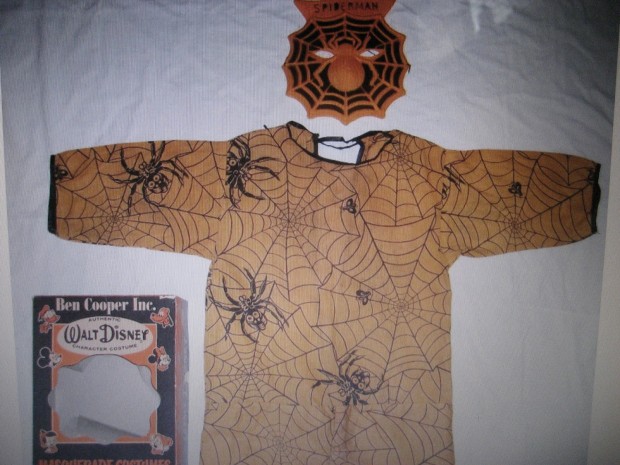 Hoewel het kostuum niet echt lijkt op het ontwerp van Steve Ditko, zijn er wel enkele overeenkomsten te noemen. Sowieso de naam Spiderman natuurlijk. Het kan heel goed dat Stan Lee dat kostuum en de naam gehoord had en deze ergens in zijn onderbewuste zijn blijven hangen toen hij de plot voor Peter Parkers origin story schreef.
De site Hero Envy schrijft uitgebreid over het Ben Cooper-kostuum. Ik had er al eerder kennis van genomen, maar recent plaatste de site Spider-Man Crawlspace een link naar dit verhaal.
Deze video vertelt ongeveer hetzelfde. Hoewel ik het een slecht gemonteerde video vind, is het vooral interessant om de overeenkomst tussen het Spider-Man-masker van Ditko en het Halloweenkostuum te zien:

Overigens bracht Cooper in 1963 een officieel Spider-Man-kostuum uit op basis van het Marvel personage.
Maar hier houdt het verhaal niet op. Er zijn namelijk nog meer bronnen te noemen waarin enkele voorlopers van Spider-Man opduiken.
Voorlopers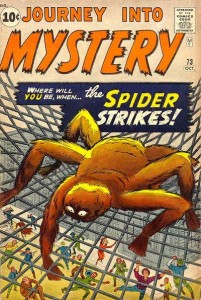 In het prachtige koffietafelboek Spider-Man: The Icon van Steve Saffel staat een kleine opsomming van Spider-Man prototypes. In 1954 wordt de naam 'Spider Man' vermeld op de cover van Uncanny Tales #26: 'Won't you step into the parlor, and feast your eyes on "The Spider Man". Overigens houdt daar de overeenkomst wel op, want dit verhaal draait om een Hongaarse leraar die gigantische spinnen wil kweken de wereld tot zijn slaaf te maken. In Journey into Mystery #73 staat een verhaal van Stan Lee en Jack Kirby dat 'The Spider Strikes heet en waarin een gewone spin bestraald wordt met radioactiviteit. Hierdoor wordt het beest gigantisch groot, machtig en zeer intelligent. Toegegeven: het heeft allemaal niet veel met Spider-Man te maken.
Overigens, en dat is wel grappig, komen een Tante May en Oom Ben voor in Strange Tales #97 in een verhaal van Stan Lee en Steve Ditko waarin het stel een nichtje opvoedt dat uiteindelijk een zeemeermin wordt. Ook komen namen als Electro en Sandman, later bekende vijanden van Spider-Man ook al eerder voor in de comics van Stan Lee & Co.
Ik denk eerlijk gezegd niet dat we op basis van deze gegevens, noch naar aanleiding van het Cooper Halloweenkostuum, Spider-Mans officiële ontstaansgeschiedenis hoeven te herschrijven.