Hoewel Moebius naar mijn weten nooit een Spider-Man-verhaal tekende, heeft hij de muurkruiper wel geportretteerd.
Namelijk in deze poster: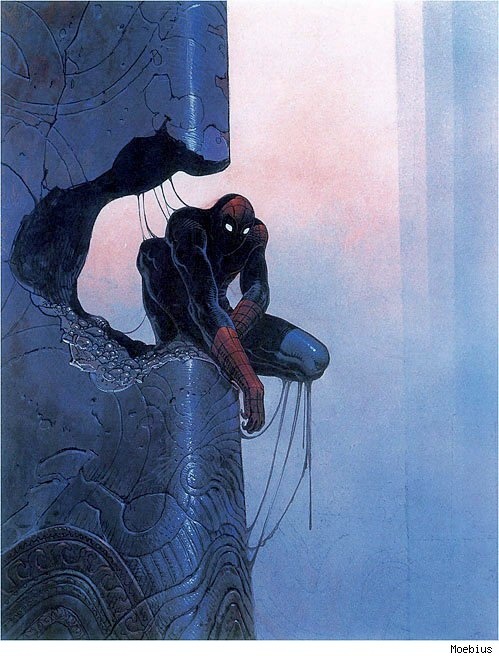 De poster is onderdeel van een serie uit 1990 waarin Moebius personages uit het Marvel universum portretteerde. De Franse striplegende, die in 2012 overleed, heeft samen met Stan Lee wel een verhaal gemaakt over the Silver Surfer. Ook tekende Moebius deze Spidey-cover, een herprint van Amazing Spider-Man (Vol 1) #102: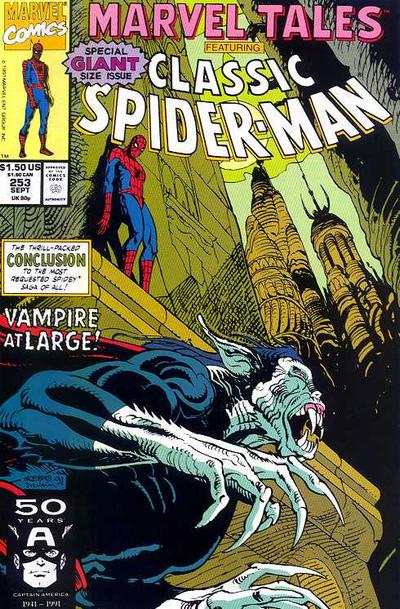 De afbeeldingen doen me fantaseren over hoe een compleet verhaal door Moebius (Jean Giraud) er uit zou hebben gezien. Hij was bij uitstek een tekenaar die goed uit de voeten zou kunnen met aan de enerzijds de fantastische elementen uit de Spider-Man-verhalen en anderzijds de juist zeer realistische en dagelijkse kanten ervan. Beide aanpakken werden immers gerepresenteerd door de man zelf. Het fantastische door zijn alter ego Moebius en de meer realistische weergave van de wereld door Jean Giraud. Ik had graag een avontuur met Spider-Man en Doctor Strange in de hoofdrol gezien, waarbij Moebius lekker los had kunnen gaan op de magische zaken en vreemde dimensies waar Strange doorgaans mee te maken krijgt.
Het web staat vol met illustraties van tekenaars die zich (nog) niet aan een Spider-Man verhaal hebben gewaagd maar die bijvoorbeeld wel gevraagd worden op beurzen om het Webhoofd te tekenen. Daarnaast zijn er natuurlijk veel tekeningen van amateurs te vinden. Dat roept bij mij de vraag op hoe Spidey eruit zou zien als Nederlandse tekenaars met hem aan de slag zouden gaan. Hoe ziet een Spider-Man eruit getekend door Erik Kriek, iemand die goed met het superhelden uit de voeten kan, getuige de Gutsman-strips die een smakelijke parodie op het genre zijn. Of een Spidey door Gerben Valkema, die sowieso zeer bekwaam is in het maken van pastiches van bekende stijlen, zoals hij onder andere bewees met het Bommel-verhaal dat hij tekende. En wat te denken van een Spidey door Romano Molenaar, Flo de Goede, Fred de Heij en Barbara Stok?
We weten wel hoe de Spider-Man van Minck Oosterveer er uit ziet. Die tekende in 2011 een aflevering van Spider-Island: Deadly foes.
Mochten Nederlandse illustratoren zich geroepen voelen hun interpretatie van Spider-Man te delen, dan beloof ik die hier te publiceren. Ik ben vooral benieuwd naar Spidey in typische Hollandse situaties en decors. Ach, een stripjournalist mag soms toch ook gewoon dromen?