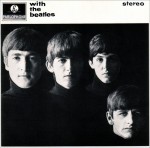 Wat mij betreft is er geen grotere band in de muziekgeschiedenis dan The Beatles. Zij hebben het verloop van de popmuziek voor altijd veranderd. Ook ben ik een groot fan van John Lennons solowerk (minus de tracks waar Yoko een deuntje op meezingt). Eigenlijk dacht ik alles wel van The Fab Four gehoord te hebben, maar nu vind ik op YouTube allerlei kale vocalen van The Beatles. Daarin hoor je dus wel de stemmentracks van de bandleden, maar niet de muziek. Of beter gezegd: de muziek hoor je nagenoeg niet.
Geen idee of deze tracks meegenomen zijn uit de studiokluis of dat mensen er audiosoftware op loslaten om de stemmen los van de muziek te filteren – sommige tracks klinken zo, anderen klinken alsof we oorspronkelijke vocal-tracks horen, waarbij de muziek zachtjes op de achtergrond te horen is, alsof die audiosporen in de microfoon van de zanger hebben gelekt.
Bij de video van Don't let me down schreef de uploader: 'This is the vocal track from the song Don't Let Me Down. I can get A LOT of isolated Beatles tracks and i can create backing tracks without guitar or without vocals etc etc. Please message me with requests and ill see what i can do :)' wat volgens mij aangeeft dat hij audiosoftware op de tracks loslaat.
Hoe dan ook: je hoort nu hoe goed John, Paul en George konden zingen. Het biedt weer een nieuw audioperspectief op de muziek van The Beatles en daar kan ik alleen maar blij van worden.
Tonio van Vugt, hoofdredacteur van Zone 5300 en groot muziekliefhebber, zette van de week de Abbey Road Medley op Facebook. Zo kwam ik nog allerlei andere tracks op het spoor. Hieronder een selectie. Je kunt op YouTube nog veel meer Beatles-video's in dezelfde geest vinden.