Vandaag was ik bij de vroege persvoorstelling van The Amazing Spider-Man, maar ik mag er tot de week van release niets over publiceren: om de film te kunnen zien heb ik een embargoformulier moeten tekenen. Zwijgplicht dus.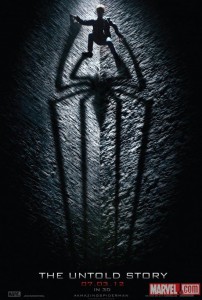 Nu ben ik gewend dat je bij grote publieksfilms je mobieltje moet inleveren voordat je de zaal in gaat, wat ook dit keer het geval was, maar het moeten ondertekenen van zo'n embargoformulier was nieuw voor me. Het is ook een beetje gek dat men niet wil dat je te vroeg over de film publiceert als je bedenkt dat Sony al maanden trailers dumpt op het web. Getuigt deze houding van weinig vertrouwen in het product? Zijn ze bang voor te negatieve reacties voordat de film uitkomt?
Kennelijk hebben ze qua publiciteit een voorkeur voor de speculatie buzz die al die trailers hebben veroorzaakt en liever geen evenwichtige visies op de film.
The Amazing Spider-Man is vanaf 28 juni in de bioscoop te zien. Een paar dagen eerder zal ik mijn recensie plaatsen. Voor mij is het geen probleem om er even mee te wachten.
Hoe anders was dat tien jaar geleden toen de eerste Spider-Man-film van Sam Raimi uitkwam. Ik had toen nog geen blog, maar wilde de film behandelen in mijn scriptie over superheldestripverfilmingen. Ik kon niet wachten tot ik het eerste filmavontuur van Spider-Man kon gaan zien. De verwachtingen waren hooggespannen en werden gelukkig waargemaakt. Ik schrijf gelukkig, want als fan van de stripheld wil je toch dat men een goede vertaling van het Webhoofd maakt. Vandaag voelde ik die spanning een stuk minder: het is immers alweer de vierde film over Spider-Man en daarbij begint regisseur Marc Webb weer bij het begin: de oorsprong van Spider-Man wordt namelijk behandeld. Maar dan wel heel anders, namelijk…. Oeps, daar ga ik al bijna. Snel deze blogpost publiceren en mijn computer afsluiten…