Op dit moment ben ik druk bezig met het voorbereiden van mijn Spider-Man lezing voor het KLIK! Amsterdam Animation Festival. Om een idee te geven van wat je tijdens die lezing kan verwachten hier alvast een exclusieve preview over fanfilms.
Clive Young, zelf filmmaker en auteur van het boek Homemade Hollywood geeft de volgende definitie van een fanfilm: An unauthorized amateur or semi-pro film, based on pop culture characters or situations, created for non-commercial viewing.'
Kenmerkend aan Spider-Man fanfilms is dat de regisseur vaak ook de hoofdrolspeler is en de schrijver van de film of reeks van films zoals het geval is in Peter's Web. De meeste fanfilmmakers, die toch maar weinig ervaring hebben, overspelen daarmee hun hand. De fanfilmer heeft dikwijls ook geen of weinig budget en dat zie je in alles terug: slechte decors, goedkope video-apparatuur en bovenal matige acteurs. Meestal zijn dat namelijk vrienden of familieleden. Dat kan lang aan als je een zombiefilm maakt wellicht, maar zodra er enigszins geacteerd moet worden en dialoog moet worden uitgesproken schieten die tekort.
Toch compenseren de fanfilmers deze gebreken met een overweldigende dosis enthousiasme en dat maakt ze vaak toch de moeite van het kijken waard. Plus het feit dat ze heel erg grappig zijn, al is dat laatste vaak onbedoeld.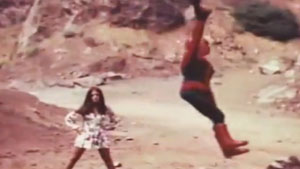 Donald F. Glut (spreek uit als 'Gloot') ken je wellicht van animatieseries die je als kind keek zoals Transformers of Land of the Lost, waar hij afleveringen voor schreef. (Hij was ook de man die Caste Grayskull bedacht van Masters of the Universe.) Of als regisseur van B-films als Dinosaur Vally Girls. Star Wars-fans kennen hem als de auteur van de romanversie van The Empire Strikes Back. Hij schreef ook Star Wars-comics en stripverhalen van Ghost Rider, en meer dan 30 boeken over dinosauriërs.
Maar hij heeft ook een connectie met Spider-Man. Als jeugdige enthousiasteling maakte Glut namelijk fanfilms: horrorfilms, monsterfilms, en superheldenflicks als Captain America en Spider-Man. De 11 minuten durende fanfilm uit 1969 waarin het webhoofd het opneemt tegen Doctor Lightening was zijn laatste voordat hij een professional werd. Glut gebruikte animatie om Spidey te laten muurkruipen. Als de held in beeld voorbij slingert, is dat een speelgoedpoppetje. De middelen die Glut gebruikte in zijn film zijn net zo simpel als dat de plot. Doctor Lightening laat zijn eigen dochter ontvoeren als zij het verhaal van haar vader in The Daily Bugle te laten zetten. Ze hoopt dat dit exposé haar vader van de waanzin zal redden. Hij werd gek toen hij in een brand door kortsluiting verminkt werd. Spidey volgt het spoor naar een grot waar de dokter zich schuilhoudt. De rest kun je raden.
'I've got bad news for you. Your father's is dead, but you're save and so is the world,' zegt Spider-Man aan het einde van de film. Gelukkig werd Glut later een betere schrijver. Overigens is dit voor zover ik nu kan nagaan de eerste en oudste fanfilm over het webhoofd.
Dat wordt dus leuk vrijdag 15 november om 20.00 uur in de Torenzaal, Overhoeks 1, Amsterdam. Kom je ook?