Dat de Amerikaanse president Barack Obama Nederland bezoekt vanwege de NSS-top, zal je niet zijn ontgaan. Het politieke gekkenhuis was vandaag compleet in Amsterdam waar Obama onder andere op het Museumplein landde per helikopter om daarna het Rijksmuseum te bezoeken. Bij De Nachtwacht ging Barack met beroepsleugenaar Mark Rutte op de foto.
Ik betwijfel of de Amerikaanse president onder de indruk was van de VVD-leider, want hij heeft in zijn leven mensen ontmoet die in tegenstelling tot Rutte wel bijzonder zijn, zoals the Amazing Spider-Man.
Die ontmoeting vondplaats in Amazing Spider-Man #583 (2009). Hierin staat een back-upverhaal over de inauguratie van Barack Obama, geschreven door Zeb Wells en getekend door Todd Nauck en Frank D'Armata. Superschurk The Chameleon doet zich voor als de president in spé en hoopt op deze manier beëdigd te worden als de nieuwe president van de Verenigde Staten. Ons favoriete webhoofd komt tussenbeide en om uit te zoeken wie van de twee de nu eigenlijk de echte Obama is, stelt hij voor dat ze de heren een vraag stellen waarop Barack Obama als enige het antwoord op zal weten: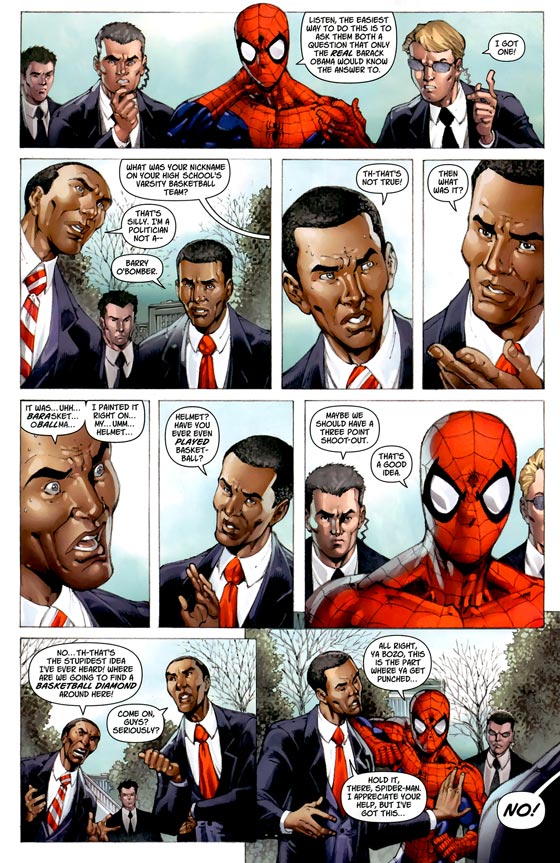 Als The Chameleon dus beter zijn huiswerk had gedaan, en verstand had gehad van basketball, werd Amerika nu geleid door een superschurk. (Al zullen sommige wereldleiders natuurlijk vinden dat dit sowieso het geval is.)

Maar goed, je weet nooit zeker of Obama niet een dubbelganger naar Nederland heeft gestuurd en zelf lekker zit te ravotten in het Witte Huis op dit moment.