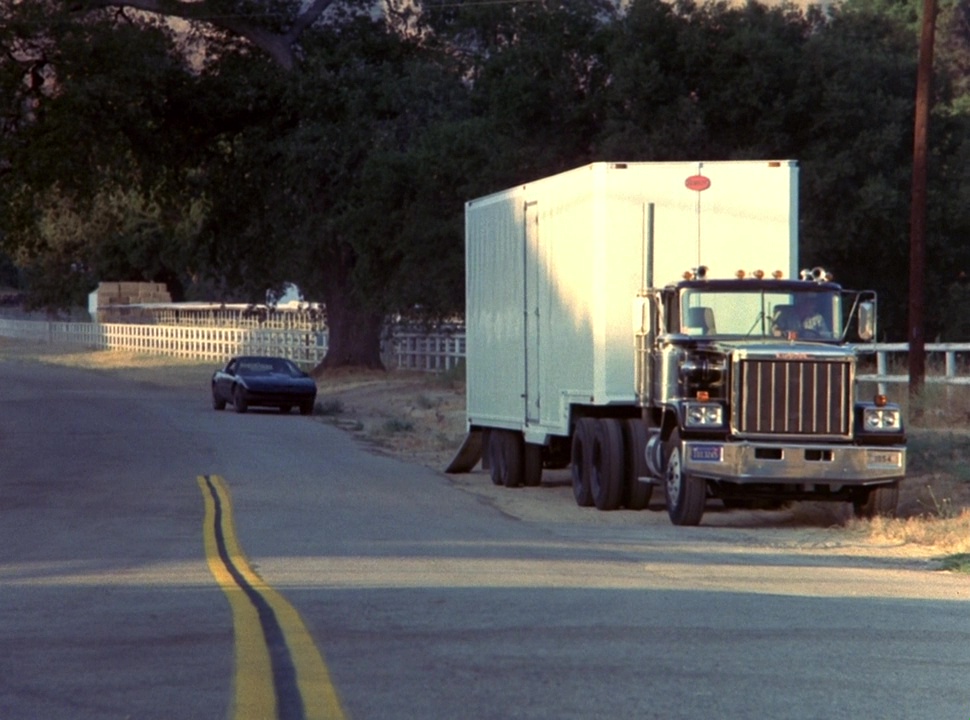 Knight Rider Episode: Deadly Maneuvers (1982)
Vandaag begonnen met het opnieuw bekijken van Knight Rider. De pilot heb ik maanden geleden al opnieuw opgezet. Ik denk dat ik de hele serie nu zo voor de vijfde of zesde keer zie. Deze aflevering werd in de Verenigde Staten als eerste na de pilot uitgezonden op 1 oktober 1982. De aflevering is opgenomen van 20 tot en met 30 augustus dat jaar.
Michael en KITT onderzoeken de verdachte dood van een kolonel bij het Engleheart Weapons Center. Uiteraard wordt hij op het spoor gebracht van een misdaad door een beeldschone jonge dame. In dit geval de dochter van de kolonel gespeeld door Devon Ericson.
Maar dat is niet wat we hier zien. Dit is een typisch moment waarin Michael terugrijdt naar de truck van de Foundation for Law and Government omdat KITT even nagekeken moet worden door Bonnie. De truck is nu nog wit geverfd, later is die mooi zwart met het logo van de foundation op de zijkant.
Waar het mij vooral om gaat is het landschap en het licht van de ondergaande zon. Het landschap is typisch Californisch met de gele dubbele strepen op het asfalt. Het is het landschap dat ik zo vaak gezien heb in televisieseries vroeger. Niet zo gek want het landschap is heel divers en daarom geschikt voor allerlei verschillende locaties voor de filmindustrie. Je hoeft maar even te reizen uit Hollywood op opnames te maken. Omdat ik het vroeger zo vaak gezien heb, representeert Californië voor mij het landschap van de Verenigde Staten.
De vreugde was dan ook groot toen ik in Californië ging wonen en op het vliegveld opgehaald werd door mijn oom en tante. Onderweg naar hun huis zag ik voor het eerst het landschap uit mijn jeugd. Dit waren de wegen waar Michael Knight ook op gereden had.
Tags: Californië, Knight Rider, Persoonlijk