Aan de krantenkop te zien is het een stuk over economie, of over toenemende politieke spanningen tussen landen, maar wie de tekst goed leest, leest dit: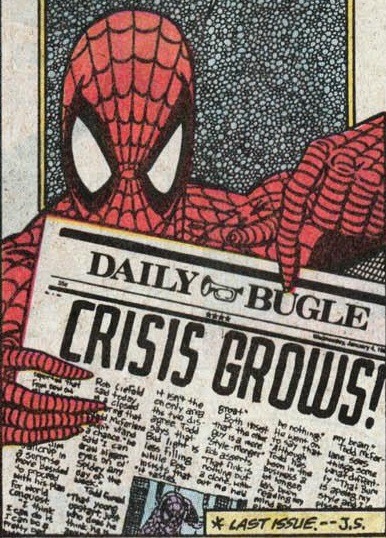 'Rob Liefeld said today […] that Todd McFarlane can't stand a chance. He said "I can draw bigger eyes on ol' Spidey any day of the week." Todd fumed. "That young upstart, just who does he think he is […]'
Nu heeft Rob Liefeld gelukkig weinig Spider-Man-comics getekend, maar McFarlane gelukkig wel. Zoals je wellicht weet waren Liefeld en McFarlane twee van de tekenaars die Image Comics startten in de jaren negentig.
Het is dus toch een artikel over Spider-Man. Soort van.
Amazing Spider-Man #324.
Tekening: Erik Larsen, tekst: David Michelinie.