De komende tijd wil ik zoveel mogelijk de strips en boeken in mijn collectie lezen waar ik tot nu toe niet aan toe ben gekomen. Vanmorgen las ik deze comic bij het ontbijt.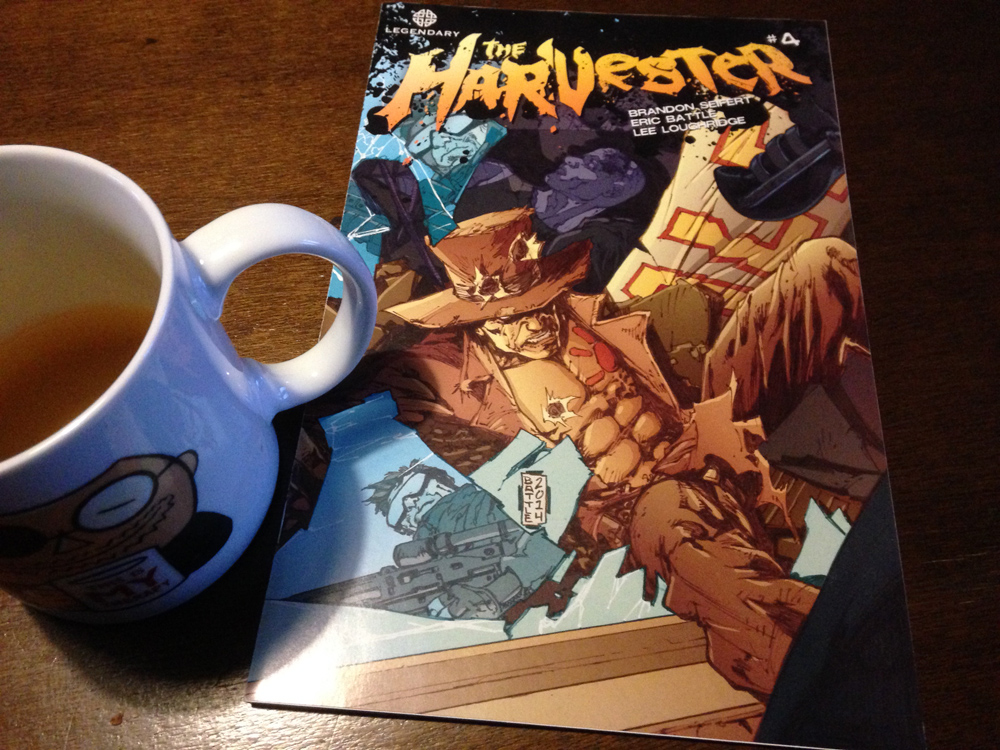 Eerlijk gezegd heb ik geen idee hoe ik aan The Harvester #4 ben gekomen. Misschien was het een gratis comic bij een bestelling van Cheap Comics.
Dit is in het kort het uitgangspunt van de serie:
Since the dawn of time, mischievous troublemakers have been warned of his wrath, scholars have searched for traces of his existence and evildoers have been tormented by the unstoppable force that goes by a single name: The Harvester.

Witness the dawning of a legend as The Harvester rises, enforcing his own breed of blood-spattered justice as he battles an unruly biker gang terrorizing a small town. In the wake of the emergence, a young academic obsessed with finding the truth partners with a rogue investigator eager to join her hunt. Together, they just might expose the Harvester for whoever – or whatever – he really is…
Ook al was dit een deel 4 van een reeks, het verhaal was makkelijk te volgen. Het personage the Harvester ziet er best tof uit.
Toch denk ik niet dat ik nog meer deeltjes hiervan ga aanschaffen. De tekeningen van Eric Battle konden mij niet heel erg boeiend. Zijn gevoel voor visuele storytelling is niet heel sterk. Veel onnodige splashpages en dat soort dingen.