Ever since she was a little girl, Rose and her parents have been going to Awago Beach. The small coastal town is their summer getaway. Rose's friend Windy always stays there in the summer as well; she's like the younger sister Rose never had. This year, however, the summer retreat seems not so idyllic.
Rose's parents are fighting a lot. Their attempts to have another baby have failed, and Rose's mom doesn't seem to be recovered from that. Meanwhile, the guy at Brewster's, practically the only shop in town, who Rose is secretly crushing on, might have gotten his girlfriend pregnant.
This One Summer may be a graphic novel aimed at young adult readers, but it is very enjoyable for older readers as well. Written by Canadian writer and performer Mariko Tamaki and illustrated by her cousin Jillian Tamaki, This One Summer is a lovely dramatic piece about two young girls on the outskirts of adulthood. The characters and their emotional turmoil feel real, therefore the book never gets melodramatic. Previously, the Tamakis published the celebrated graphic novel Skim.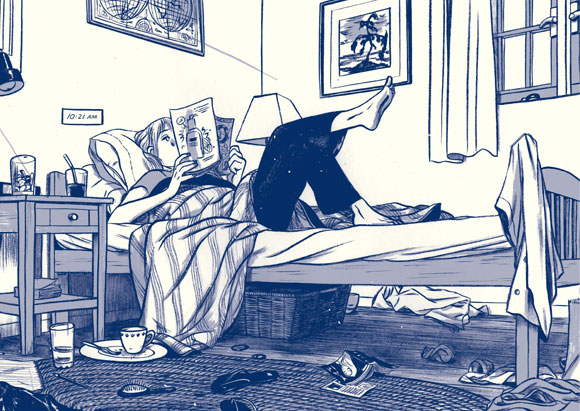 The book reads like a nicely-paced movie and its construction is quite clever. The Tamakis take their time to unfold why Rose's mom reacts the way she does and what exactly has happened to her. Rose, being the protagonist, is present in every scene. We experience the story through her eyes, so to speak. I especially liked how the authors incorporated the little drama-in-the-making that's happening to the local teens, and how they linked this to Rose and Windy's adventures. Whether the girls are visiting the local shop or the Historic Heritage Huron Village, they're always in the right spot to witness part of the unfolding drama without it feeling contrived in any way. The blind spots Rose and Windy (and the reader) fill in with their own imagination.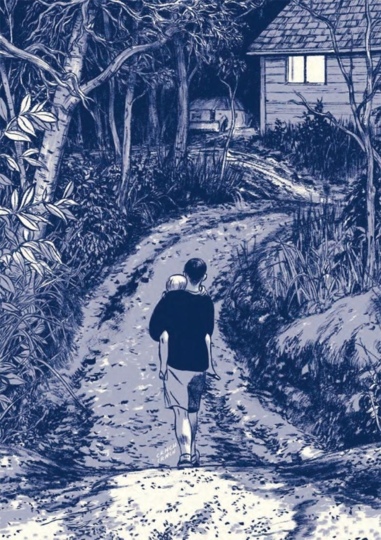 This One Summer won the Ignatz Award for best graphic novel last year. Jillian Tamaki won the Governor General's Award for Children's Literature-Illustration for this graphic novel.
Written for and published on the wonderful blog of the American Book Center.