This afternoon Linda and I visited the 'From Outer Space' exhibition by Poster Rex at the Amsterdam Stadschouwburg (Amsterdam City Theatre).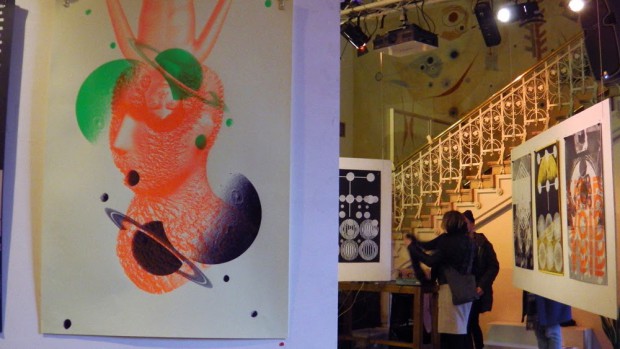 This is the info I got from the SSBA-Salon Site about the project:
Falko Gerlinghoff
(Halle), Lars Harmsen (Munich) and Markus Lange (Leipzig) met for the
first time when they were involved in the print-workshop, ARIAL (2012),
at the University of Applied Sciences, Dortmund, Germany. Half a year
later they travelled to Havana, Cuba, to collaborate on the Cuban issue
of SLANTED Magazine (published 2013). Lars, and his partners at Melville
Brand Design, Munich, Germany, designed posters for the exhibition
MoreMoreMore (2013). Each piece was a unique print, playing with
accidents that occur randomly due to the process of overprinting
different screens.

In summer 2014, Falko, Lars and Markus
returned to Havana, to see the designers whom they had met the previous
year. For three days they silkscreened posters, mixing Salsa with
Bauhaus, and form these experiments the idea for POSTER REX was born.

POSTER REX was founded in 2014 by Lars Harmsen and Markus Lange and its
objective is to offer print workshops in different cities. POSTER REX
works together with artists, print shops and galleries to achieve
original and unique prints, made my by hand, using analog techniques and
processes.
The first workshop took place in Leipzig, Germany, in
the Rainbow screen print workshop together with Frank Höhne, an
illustrator from Berlin, Germany. The theme for the first workshop, and
exhibition, at the Graphic bookstore MZIN, Leipzig, was ATOMIC. The next
issue will take place in Amsterdam together with Edwin van Gelder from
Mainstudio and the results will be exhibit in the SSBA Salon. The
workshop is supported by Igepa and Pröll KG.